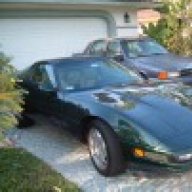 Joined

Apr 6, 2005
Messages

96
Location
Corvette

1994 Polo Green Coupe
Re-charged my 94, first year for R134A.
Here are the numbers I got.
:blue:
Ambient temperature - 80 F
Air Temperature at A/C vent - open doors - 40 F
Low pressure - 26 to 27 psi
High pressure - 190 to 195 psi
Humidity - 49% - as reported for region via weather forecast.
My method was to continuing charging until the pressure guages approached the top of the published values and the vent temperature continued to decrease. The 40-42 F reading was the lowest I could go without having the low pressure go above 29 psi and the high pressure above 199. Was this the proper technique?
The readings are always published as ranges, depending on ambient temperature and relative humidity. The ranges here are based on actual movement of the pointers during the last few minutes of charging for the current ambient temperature of 78 F and a relative humidity from the regional weather forecast of 49%.
In reference documentation, I found ranges of vent temperatures of 38-60 F, low pressures of 22-29 psi and high pressures of 160-198 psi.
This was an average winter day in South Florida. It will be interesting to see what happens to the numbers during an average summer day, with ambient temperatures of 93 F and relative humidity of 98%.

ad
I wonder if the system will show pressures above the reference documentation indicating the system is overcharged or will the pressures stay the same and the vent temperature increase?