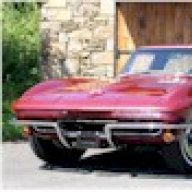 Joined

Apr 2, 2004
Messages

4,611
Location
Corvette

1965 Coupe L76 / 1978 L82
hi guys

Got back from Carlisle last night. Great show for all of those that couldn't make it but a bit wet on Senday.....

Anyway, brought the '78 back home as it didn't sell which is making the wife very happy. About a 100 miles trip home which is the longest drive the car has seen in YEARS. She ran good I'm glad to say except one thing.
With the A/C on it makes a very noticeable "rattling" noise. Switch off the A/C and it goes away, switch it back on it immediatly comes back. Very annoying!
I had the A/C system completely gone over after I got the car running again in the spring and he replaced the drier/accumulator, replaced all the O Rings, vacuum pressure tested it, and refilled it with freon. It blows nice and cold and works great, almost too cold, but this rattling noise is driving me crazy.
Any ideas??
A friend suggested it might be the bearings on the A/C compressor??