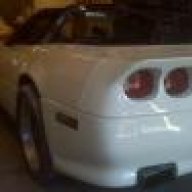 Joined

May 9, 2002
Messages

2,945
Location
Corvette

1984 White Z-51/ZF6-40/Shinoda body
Here's what I learned:
My '84 is an early production, Z51 car; January. HotRodRoy's is a month later. The A/C in mine has been inop and mostly removed for years as mods were done, then refined. Recently, things went so well, under ZFDoc's care, that I had new A/C components sent to him for installation. It blew "ice cubes", he said, with the newish R12a gas for many days, then seemingly did a pressure discharge; no more cold and a cycling compressor!
The new compressor (Rock Auto) had no switch on its backside as the old one had, which started my search for what it was (the old one was broken/gone). I was told by one of the best local experts, that a replacement switch could replace an aluminum plug held in by a snap ring and sealed by an o-ring (wetted with refrigerant oil). My local parts guy said it was a certain switch, which I installed. Nope; wrong switch!
I called the
outsourced
tech help for Four Seasons, polite but no help. However, a Four Seasons product manager (Mark) called me with real info (also a polite car guy). They sell many switches that appear the same, but the differences extend past their color, which indicates what they are: normally open (N.O.)/normally closed/(N.C.), activation pressures, etc.
On my car, that switch (sensor) closes (grounds) when the pressure builds in the compressor when switched on thru its clutch. It is a normally open (N.O.) switch. Compressor activation, therefore, switches the single fan on, as does the engine temp. (ECT) switch via the same relay.
There ISN'T a High Pressure safety switch to deactivate the compressor, in case the system's pressure gets too high, on my car. That switch is in series with the low pressure switch, and IS on Roy's car. It is a 2-terminal switch in the outboard (H.P.) port on the hose fitting attached to the rear side of the compressor. (Another setup I have for my Corvette-powered F100 has none; supposedly from an '87.) I won't put words in Roy's mouth but, while the
why
of one car having and another not eludes us, Chevy felt my car didn't need one. Actually, the A/C worked well for many years without that switch.
The switch I (wrongly) installed was a high pressure safety; tested closed right from the box (NC= normally closed). The 'tech dude' said it was defective, but a replacement tested the same. In fact, it was operating properly, but was the wrong part#, which became clear in the product manager's call. He had access to wiring diagrams and more product detail.
The fan-relay-activating, N.O. switch tests as it should, normally open with no pressure. It is purple, not light blue, but otherwise appears identical to the HP safety switch (N.C.).
I asked the product manager about the (C4) system I am installing in the F100. That 'wrong' switch can serve its HP safety function if installed in that port on the compressor (the plugged hole). I am doing the truck's wiring, so it is a simple matter to have the fan activate (C-4 single-fan) when I switch on the A/C.
I hope this helps someone (and is clearer than my initial post).

Last edited: