Joined

Feb 26, 2005
Messages

78
Location
Corvette

1985 two-tone silver/graphite z51 auto
while my NCRS days are long gone, I still strive to keep things looking "factory." I recently rebuilt an alternator for my 85 daily driver, and tried something, while it may not be unique, was something I stumbled across during the case refinish. i know bead blasting may be controversial, but none the less, I did bead blast the case. I have a small blasting cabinet, and the medium is TP Tool's Speed Bead Abrasive (80% glass, 20% aluminum oxide) - pressure at 80psi. cleaned the case, and as noted, typical bead blasted finish. this is where I tried something new - new to me anyway. I used a small piece of "white" scotch-bright and a little Wenol polishing compound (red tube). it was a real light polish - kind of like cleaning the wife's fine china. the scotch-bright/wenol took the freshly blasted look - both texture and color back to, IMO, a pretty decent, OE factory look.
I'M NOT TRYING TO SAY THIS IS CORRECT OR BETTER THAN ANY PROFESSIONAL RESTO
, just looking for some feedback and comments. (there' a little color shift in the before/after photos, but you get the idea)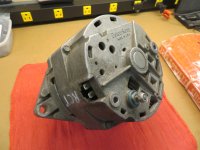 BTW, what I've found, at least on my C4, the case is not an aluminum alloy, but it seems to be a zinc-aluminum alloy. what mix, I have no idea, but there seems to be only three ratios used in castings. it's too heavy and the color differs too much to be a straight aluminum alloy.
BTWII - i picked up this alternator on fleabay as a spare for $50. the date code on this thing is one day before my original. not that it matters on a C4 daily driver, but what are the odds???
Last edited: