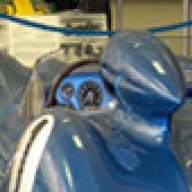 Well-known member
Administrator
Joined

Nov 9, 2000
Messages

7,381
Location
Corvette

1959 black 270hp (9/2/69) 1981 Beige L81(10/20/80)
Once again I have emailed American asking if they are going to produce a TTO in a 15x6 size for us drum brake Corvette guys. I got the usual answer. No reply or even an acknowledgement of my question.
I know that they are aware of the demand for this product. I have asked their reps at shows and they always tell me that they hear this all the time (so why not act on it?) Ever so often there is a rumor out that the 15x6 TTO is coming but it never shows. Ancient used ones are getting more expensive by the day and I don't really like the thought of driving my Corvette on 50 year old alloy wheels.
Will we ever see a TTO 15x6? Even the copies are not available in our size. Maybe they aren't getting enough inquiries. I'm not condoning flooding their mail box but if you are interested it wouldn't hurt to let them know.
For those not aware of the situation the straight spoke Torque Thrust was all there was until the disc brakes showed up on Corvettes and the spokes hit the calipers. That brought out the need for more clearance which resulted in the Torque Thrust D curved spoke design. If you want your early drum brake car to look period correct it needs straight spokes. They are available in 7" which are too wide for the front and can rub on the rear too depending on tire choice. They are also available in 5" wheels. These are ok for drag race looking cars but too narrow for a performance street application. See the sample links below. Also the TTII is a curved spoke and the hoop is a completely different look even though it is available in 15x6
TTO
TT "D"
Thanks for listening to my rant but I want some. Please American.:cry