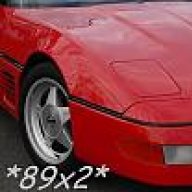 Joined

Feb 18, 2002
Messages

10,357
Location
A Conversation With Reeves Callaway
The Legendary Tuner Talks Styling, Superchargers, And The Shape Of Things To Come
By Walt Thurn

Photography: Walt Thurn
Vette Magazine, February 2007
​

The new C16 is a stunning design that captures all of the aerodynamic lessons the company has learned with past projects. The Callaway design heritage can clearly be seen in the new Corvette-based supercar.

Reeves Callaway is a man of many talents. He won the 1973 SCCA National Championship driving a Formula Vee, received his Bachelor of Fine Arts degree from Amherst College, and is regarded as an expert in critical car-development areas such as chassis tuning, engine building, and fabrication. Since starting out by modifying cars with turbochargers in his garage, Reeves has built his tuning firm into an international powerhouse with facilities in Connecticut, California, and Germany.

In the mid '80s, Callaway Cars became the first tuner authorized by GM to modify new Corvettes through Chevrolet dealers. The resulting B2K program proved tremendously successful for everyone involved, and today the cars continue to command premium prices on the open market. Since the B2K program's dissolution in 1991, Reeves and his small band of enthusiastic employees have turned out a seemingly endless series of amazing Corvettes. Who could forget the 450hp SuperNaturals, the 254.76-mph Sledgehammer, the LM Le Mans racers, the C7, or the C12?

New-car tuning was not a priority for Callaway during the C5-based C12 supercar program. That changed in 2004, with introduction of the C6. In fact, Callaway was one of the first to modify the sixth-generation car, most notably with its Carlisle/Callaway project vehicle. Recently, we had a chance to talk with Reeves about Callaway Cars' ongoing projects and future plans.

​

Reeves Callaway was very involved in the body design of the new C16.

Vette:

Reeves, thanks for spending some time with us. Why did you decide to reinvolve your company with the mainstream Corvette-tuning business?

Reeves Callaway:

We are a project-oriented engineering company, and we can only handle so many at one time. We were not able to be involved with the C5-with the exception of the C12-because of other company commitments. With the introduction of C6, it was a great time to reenter the Corvette arena.

Vette:

What is your opinion of the C6 Corvette?

RC:

A lot of things changed on the C6. The platform is different, and it is a much, much better car. GM spent a tremendous amount of money improving the car. It is a great basis for modifications, and that is why we are sitting here today.

Vette:

Can you tell us about some of your new C6 programs?

RC:

We have a great program for supercharging the C6. Cars can now be ordered through selected Chevrolet dealerships. When the cars leave Bowling Green, they are dropped off at one of our facilities, modified, and shipped to the dealer. The customer picks up the completed car with a five-year, 100,000-mile warranty for 2007. It is very seamless for our customers. In addition, we are moving forward on commercialization of the competition C6 platform. We are making the platform into a correct race car for FIA and Le Mans competition. That is our focus today.

​

A B2K-optioned Callaway Corvette, like this very nice '87 version, still attracts buyer interest at collector-car auctions.

Vette:

Do you think you will ever return to Le Mans?

RC:

We are planning to be at Le Mans in 2007 with two entries. Now the question is, can we reconfigure our GT3 car into an adequate GT2 race car for Le Mans? This has more to do with regulations and the organizers than with us, but that is the objective.

Vette:

Z06.Rs finished First and Second in the GT3 class in the three-hour FIA GT race at Paul Ricard. That was a pretty impressive finish in their current configuration.

RC:

The FIA GT3 rules limit what we can change on the standard Z06. When we go to Le Mans, they will be raced as Callaway Cars, and therefore, we will homologate these cars with different features. Some of the handicaps that the current car has will be eliminated in our new car.

Vette:

Watching the cars race in Europe, it is obvious that the aero can be improved as well as the gearing. The car is really handicapped with its current 3.42 gearset.

RC:

As you know, it is all about regulations-making the car fit the correct slot at the GT2 level at Le Mans and fixing all of the things you just mentioned. One of them interestingly ties back into our road-car program. Specifically, that is the introduction of the new C16 project. This is what we have labeled the new body design for the C6 platform. This is the car we will introduce at the Los Angeles Auto Show. It is a completely re-bodied C6 with a supercharged engine, the right wheels, tires, suspension, and brake package. It's a well-engineered, completely redone automobile-based on a C6, of course.

​

Reeves Callaway (left) and former Chief Corvette Engineer Dave McLellan created the twin-turbo B2K option for C4 Corvettes.

​

Behold: the ultimate C4. Until recently, the 254.76-mph '88 Callaway "Sledgehammer" held the title of "World's Fastest Street Car."

​

Take a close look at the Sledgehammer's heavily modified twin-turbo powerplant. This 900-plus horsepower small-block was equipped with two large intercoolers, which kept the intake charge cool during high-speed runs.

​

Callaway Competition, in Leingarten, Germany, built four C4 Callaway LM coupes. This is the original Callaway LM racing at the 1995 24 Hours of Daytona. It won the 1994 Le Mans GT pole position and led its class for 13 hours before running out of fuel.

Vette:

Will you be able to run the supercharged engine at Le Mans?

RC:

No, the regulations will not allow us to use a forced-induction engine package.

Vette:

Can you use the LS7?

RC:

Yes, the seven-liter LS7 engine will be fine.

Vette:

What kind of horsepower level is required to be competitive?

RC:

Well, the rule of thumb in GT2 is about 500 hp. We actually need a little less horsepower in the race car than we need in the street car. Isn't that ironic?

Vette:

Will these two cars be entered by Callaway Cars or by customers?

​

This Callaway C7 was conceived as the ultimate Corvette-based GT car. Built entirely from carbon fiber, it was intended to compete at Le Mans. Only two were built, one of which now sits in Callaway's Old Lyme, Connecticut, showroom.

RC:

Callaway will enter them, and we will run the operation out of Callaway Competition in Germany. Ernst Woehr will be the program manager. Now, I want to emphasize that there are a lot of "what if's" about this project. There are sponsorship, regulation, and development hurdles that all must be put to rest before we go to Le Mans.

Vette:

Why race at Le Mans and not other venues?

RC:

In the hierarchy of motorsports, the only race that means anything to a car manufacturer is Le Mans. Everything else is an also-ran. The thing you want to achieve by participating at Le Mans is you want to broadcast to others that you have the strength and reliability to go 24 hours. By the way, you are doing this nose-to-nose with anybody else who says they can do that.

Vette:

How will the new C16 be offered to your customers?

​

RC:

It will be offered in two

http://www.vetteweb.com/features/vemp_0702_reeves_callaway_interview/photo_09.html

versions: as a body kit for the C6 or a complete C16 car. To create the C16, every body panel on the C6 is replaced. We tried to stay with add-on components, but to us, it looked pretty scary. Our designer, Paul Deutschman, did a wonderful job on this new design, and we are quite proud of the outcome. It is a gorgeous car. The new Z06 is flared and looks added-on to us. We wanted to capture this wider stance in a more integrated manner, and I think Paul met this objective. I think the new design reminds me of the Aston Martin DBR9-very aggressive but very refined.

Vette:

What have you learned from the GT3 program in Europe?

RC:

We learned that the GT3 lessons could be applied to a commercially available race version of the Corvette. It would be a big advantage for teams to apply the lessons we have learned about racing the Z06 in GT3 competition.

Vette:

Reeves, thank you for spending time with us. The C16 is awesome, and we wish Callaway Cars much success with the program.

RC:

Thank you for giving me the opportunity to share our company's present and future plans with your readers. For the latest developments on the C16 and other Callaway Cars Corvette programs, stay tuned to Vette.

​

The Callaway facility at Old Lyme is complete with a dyno, machine shop, numerous lifts, and a product-testing area.

​

(From right) Reeves Callaway, Reeves' son Pete, Callaway Cars Engineering Manager Scott Rawling, and Managing Director Mike Zoner pose with a supercharged '07 convertible at this year's Corvettes at Carlisle show.

​

Callaway Competition built seven new Z06.Rs, including the one driven here by John Heinricy. The cars are competing successfully in the FIA's new European GT3 series.