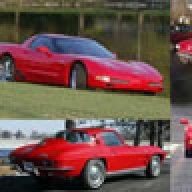 Joined

Oct 11, 2003
Messages

1,895
Location
Corvette

15 Z06, 01 Vert, 63 SWC & 60 ALL RED
I had my windshield all the way on BUT the last nut on the window post at the drivers corner. Everything was looking good. I had attached the previous 3 nuts that were 5/16-18 threads and was trying to get the last one on. Except it is in kind of a weird angle, well I thought I had cross threaded
it when I looked up inside the cubby hole it is in. so I took all the nuts back off and pulled the windshield figuring I needed to run a 5/16-18 die over the thread.
I started to put the die on the thread and all of a sudden I realize that the thread isn't an 18 but a 24!
Bubba had changed out the threaded stud and put in a fine thread rather than the coarse that was every where else. Needless to say, I got it cleaned up and there is now a nice new 5/16-24 nut on it. So in 20 years whoever goes into my windshield to do something, I am sorry...I left Bubbas fine thread stud in the window post....
Unbelievable!