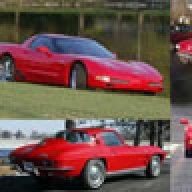 Joined

Oct 11, 2003
Messages

1,895
Location
Corvette

15 Z06, 01 Vert, 63 SWC & 60 ALL RED
Yesterday was not a first good day, a lot of things did not want to go together and I left the garage depressed. I figured that leaving was better than getting really frustrated. So today I went at it with never energy and thought about what needed to be done.
Here is the box you get when you order the WWK-5762V-2, 57-62 Corvette Wiper Kit W/2 speed Switch. Cost $350 + $10.25 shipping from zip 31029 to 44857. SPW phone number 478-994-9248
This is what you get in the kit
You need to add these to the kit if you want new ones, otherwise you could get away with your old if you are ok with how they look.
you need to add 2 chrome spacers Corvette America #28936, 2 nuts #32917 (there is a note in the box that says in order to use these new nuts you need to run them over a 5/8-24 tap because the flash chrome gets in the threads and will not go over the threads. SPW offers you to send them to them no charge they will take care of them and send them back) and 2 gaskets #28937. If you add these parts you have everything you need.
Comparison of old and new
In the above photo you will notice that there is a notched side to the transmission end covers. One of these goes up and the other transmission has this go down. that is how they get these to wipe from the middle out. If you get this set up remember they go in a different orientation, not the same.
Here is the passenger side installed.
And finally the out side installed.....
As I go along, I will add more photos to this posting to show all the steps.....enjoy!!!