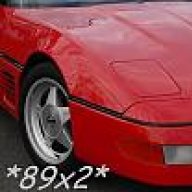 Joined

Feb 18, 2002
Messages

10,357
Location
...I hear there will be more on the stands this week about the Orange C16

http://www.automobilemag.com/auto_shows/2007_new_york/0703_2008_callaway_c16_convertible/
2008 Callaway C16 Convertible


​

By Stuart Fowle

​

Reeves Callaway, founder of Callaway Cars, has given already-capable Corvettes the Barry Bonds treatment for decades, creating some of the quickest exotics in the world. The C16, introduced at the 2006 Los Angeles show, was the latest of these steroid-injected beasts. The car you see here is a topless follow-up to that car for aficionados in the sunny states. But with a 0-to-60 mph time of 3.5 seconds and a top speed of over 200 mph, we have to wonder-can the sun even keep up with this thing?

Like the C16 coupe, the convertible gets its power from a 560-hp supercharged 6.0-liter V-8, with an optional performance package that boosts output to 616 hp. There is no convertible version of the Corvette Z06, so that package is good for a jump of over 200 hp over next-most-powerful Corvette convertible. Three transmissions will be available: two six-speed manual boxes (one with shorter ratios for first through fourth gear) or a six-speed, paddle-shifted automatic. Since convertible owners traditionally cruise more boulevards than race tracks, the latter is expected to be more popular for this built-to-order exotic.

Modifications from the original Corvette platform aren't limited to just exterior styling and engine performance. A coil-over suspension system has been co-developed with Eibach, and features ride height, corner weight, and pitch angle adjustability. Since the car is capable of 200-plus mph, the brakes have been modified, too. Stoptech developed the C16's 6-piston front and 4-piston rear calipers, all of which bite down on 355 mm diameter rotors. Magnesium and carbon fiber wheels--the lightest roadgoing wheels in the industry--help lower the car's unsprung weight.

For all its changes from the Corvette, the Callaway C16 does maintain some of the Chevy's best qualities. It has a fuel efficiency rating of 18 mpg in the city and 28 on the highway, it is emissions compliant, and it's even backed by GM's 5-year/100,000-mile powertrain warranty. But sorry, the C16 doesn't keep the Corvette's base price. A fully loaded C16 convertible will cost $128,765. We think that price is worth the exclusivity, but is the C16 convertible attractive enough? We're still not sure.