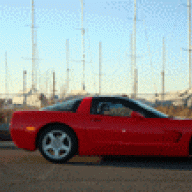 Joined

Apr 18, 2002
Messages

1,441
Location
Corvette

1999 Torch Red Coupe
Most of us know by now that just installing a low temperature thermostat by itself will do little to reduce engine-operating temperatures once warmed up and in traffic.
The key is to have a lower temp. Thermostat AND be able to control the cooling fans.
So for about $10 in parts and 1.5 hours of time I was able to install a switch in my C5 to manually control the fans. You can turn them on in either high or low speed. On a 92 degree day, in traffic for over 20 minutes, my 1999 C5 never ran hotter than 196. Yes, you can by a fan controller for around $200 from some of the Corvette catalogs, but this was a simple experiment that worked. I wanted to put the switch in the blank space where the HUD switch would have went, but I didn't want to have to remove the instrument panel. No code or check engine lights!
http://community.webshots.com/photo/366233227/366233227nAfGvu