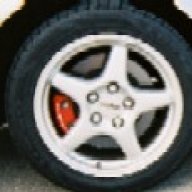 Joined

Jun 20, 2002
Messages

2,510
Location
Corvette

none right now :(
Long story short, my Dad loaned me one of his Corvettes... 1998 Pace Car, well kept but hardly anything done to it (i.e mostly original) 68k miles.

My wife drove it to work last week and it wouldn't start after work. I jumped it, and changed out the 5 year old AC Delco battery for a new Optima. I fully charged the Optima before installing.

Now I have my eye on the volts... They seem low. On the digital display, turn the key to 'On' and I'm at 11.7. seems fine, start the car, volts slowly go up over 10-ish seconds to 13.8 - 14.0. Put my foot on the brake pedal and I'll get a drop in volts to 13.5... Running to work today, lights on, wipers on, radio on, A/C on it was running about 13.5 while going. At a stop light it dropped as low as 12.8 at one point.

Is this normal? it seem low to me, I'm either over-looking at the volts or the alternator is on it's way out.