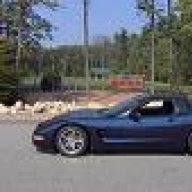 Joined

Jul 20, 2005
Messages

107
Location
Corvette

2000 Navy targa
This is going to sound like I'm making it up, or I'm nuts or something, BUT I swear this is true!
By adding a $70.00 set of splash guards, the sound of the exhaust from my driver's seat is noticeably louder. It sounded so much louder today that I jacked up the car in the rear with the engine going, got under the muffflers and pipes and made sure that there were no new holes, or broken flange welds, etc. Everthing was fine and tight, no air rushing out except at the tips.
About six months ago I put on a beautiful set of slightly used, immaculate Z-06 pipes on my 2000 hatchback. On the recommendation of several Corvette enthusiasts, I went this way to save some $ over the Borlas, Corsas, GHL, etc. Hib Halverstam (sic) had made a convincing web entry on the benifits of doing this. Since then the TECH NERD in
Corvette
magazine (last month) stated unequivically that there was virtually no horsepower gain with any of them, that it was more of "sound" enhancement, and made you
feel
that the car was faster. This made me appreciate not going for my brains with the Billy Boats or whatever.
BUT, after going to all of the trouble of getting the Z-06 mufflers, (like nearly killing myself putting them on) I got to tell you that I was a little disappointed in the increase in sound over the stock mufflers. -Just a little throatier in normal driving, a pretty good snarrrrlll under WOT, but less than I hoped for, especially considering the expense and work.
Meanwhile, I decided a while back that the fenders and quarters behind the wheels were getting a little "chalky" looking from chips and road dirt pounding on them. Wax wasn't doin' it any more, even the color wax.
So I decided to get the "No drilling required" splash guards from "E's", but I think Mid America may have had them to, -cost $70.00. They went on easy, although the instructions were a little cryptic! -without any diagrams.
The fronts hang down a little too low, lower than the front air dam. You might consider cutting the bottom inch off - or at least to where the bottom attaching hole is located. If you don't cut them you end up about two inches off the deck- a new low, and we all know that C-5's are quite low enough.
BOTTOM LINE- By putting on these flaps the increase in exhaust note volume is about twice that of the increase of going from stock to Z-06 mufflers. I can't explain it, I can only guess that the air flow must be different so that more sound is echoing back at the driver, but it definitely makes a
pronounced
difference.
For $70 and about a half an hour of work you can't. go wrong, AND you can take them off for shows (without any drill holes) and you'll have a whole lot less chips on yor fenders and rockers.
Enjoy,