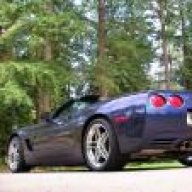 Joined

May 18, 2005
Messages

156
Location
Corvette

Supercharged LS6 6-speed Z06 Roadster
The clutch on my '96 LT4 has been getting progressively worse for the past few years, and now it's gotten bad enough that I think it's about time to think seriously about how I'm going to fix it. It'll hold for normal driving and while it's cold, but after it has gotten warmed up it'll slip with prodigious throttle input on the top three gears. I bet if this were an LT1 it wouldn't even have this problem, it's just not up to the task for a strong LT4. I bought it at 126k and have driven it for another 25k like someone who knows how a clutch works, but it had been through a lot of previous owners and since it goes like stink I'm betting the clutch has been abused along the way. I doubt it is the original and I have no way to know what it's been replaced with.
I've done clutch jobs on transverse setups before, but this will be my first longitudinal. I'm aware of this being a dual-mass setup and that you're supposed to replace everything, but that seems excessive for my situation. In the past I've been able to clean up the flywheel with some fine sandpaper, air-powered polishing pads like what I use to clean up cylinder heads, and/or a rotary wire brush on a drill. In light of how minor my issue is, I think that a flywheel cleanup and a new clutch disc and/or pressure plate would take care of it.
Has anyone attempted to do a clutch job this way on a ZF before?
Thanks,
Dave D