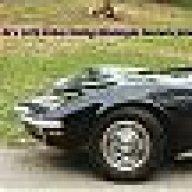 Joined

Jan 7, 2001
Messages

27
Location
Corvette

1970 Midnight Metalic Blue
I've been reading the posts on temperatures rising.

Does anyone else share similar systems. On hot summer days I cannot do any highway driving without the temp gage going beyong 240+. If I'm traveling threw cities where the average speed is about 30mph, temp gage won't go above 200 if I don't stop for hours. But if I have to get onto an interstate where you need to maintain 65mph, my temp. rises amost immediately. If there's no exits for miles I need to turn the heater on to cool it down. While the outside temperture may be 90 degrees, inside seems like an inferno.
My wife refuses To ride in it if we're going to any events on HOT days( which isn't a BAD thing, sometimes.:L) I've flush out the system several times over the years and the system is fine. The fan operates the way it's suppose to, there are no leaks, and I've replaced the heater core Installed a lower degree thermostat and had the radiator tested. It runs fine for city driving, but overheats on highways. If we're having just 70 to 80 degree days then it'll run just a little over 200 degrees on the highway. Any sugguestions besides NOT driving it long distantes on HOT summer days.
PS....By the way the only air I have for cooling down inside is to remove the tops and back window, and that doesn't help either.