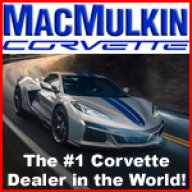 Joined

Aug 22, 2007
Messages

264
Location
CORVETTE RACING AT LE MANS: Garcia, Magnussen, Taylor Complete 24 Hours
Trouble-free run for No. 63 Chevrolet Corvette C7.R at French endurance classic
2016-06-19
LE MANS, France
(June 19, 2016) - A total team effort from Corvette Racing resulted in one of its Chevrolet Corvette C7.R race cars completing the 24 Hours of Le Mans today - the 17 time America's premier GT team has tackled the famed French endurance race.
The No. 63 Konica Minolta/Mobil 1/SiriusXM Chevrolet Corvette C7.R of Antonio Garcia, Jan Magnussen and Ricky Taylor finished seventh in the GTE Pro class after starting 14 in the category and last on the grid. The trio ran a steady, clean race with none of the major mistakes that claimed many of the other runners in the class.
Corvette Racing was going for its ninth class victory at Le Mans and sixth consecutive endurance Triple Crown victory - having won the last two years in the Rolex 24 At Daytona and Mobil 1 Twelve Hours of Sebring, in addition to last year's Le Mans.
Taylor took the checkered flag in the No. 63 Corvette to cap his first Le Mans with Corvette Racing. It capped a determined effort which saw the trio climb into the top-10 for good prior to the halfway mark. The opening 52 minutes were run behind the safety car, owning to heavy rains which soaked an already saturated circuit.
Corvette Racing's No. 64 Konica Minolta/Mobil 1/SiriusXM Chevrolet Corvette C7.R was forced to retire following a crash in the race's 17th hour Sunday morning. Tommy Milner, driving with Oliver Gavin and Jordan Taylor, suffered a hard impact when his Corvette went hard into the outside wall prior to the first turn during heavy braking.
But thanks to state-of-the-art construction and safety features of the racing Corvette, Milner got out of the car under his own power and returned to the team garage shortly thereafter. He, Gavin and Taylor were the defending GTE Pro winners from 2015 and had been running as high as fifth on Sunday before the accident.
Corvette Racing returns to competition in two weeks at Watkins Glen International for the Sahlen's Six Hours of The Glen as part of the IMSA WeatherTech SportsCar Championship. The race is set for 10 a.m. ET on Sunday, July 3.
ANTONIO GARCIA, NO. 63 CHEVROLET CORVETTE C7.R:
'Basically we had a good car in a perfect race. We didn't put a foot wrong and all we did for 24 hours is change tires, brakes and drivers, and put fuel in. We gave it our 100 percent but in the end we couldn't go any faster.'
JAN MAGNUSSEN, NO. 63 CHEVROLET CORVETTE C7.R:
'The car was good, the team was good and didn't make any mistakes. We'll now have to go back and learn from this and come back stronger next year.'
RICKY TAYLOR, NO. 63 CHEVROLET CORVETTE C7.R:
'For me, to be a part of Corvette Racing was such an honor. During the last stint, I was thinking about how lucky I am to be part of this team and to finish this race for the first time with Corvette Racing. A day in Le Mans with a Corvette is a sweet day. Hopefully I'll be back with the team next year and we'll make up for this one.'
OLIVER GAVIN, NO. 64 KONICA MINOLTA/MOBIL 1/SIRIUS-XM CHEVROLET CORVETTE C7.R - RETIRED AFTER ACCIDENT:
'We had made it through the night and were making good progress. Through the night, we were seeing that we were as competitive as we had been all race. The circuit definitely was coming to our Corvette. We were going to need to make a couple of changes just to get it through to the end in order for it to be really, really good. This place is so unforgiving; it's so fast in so many spots. What happened to Tommy going into Turn 1 could have happened to any of the three of us. It was a very tough break for Tommy. He had just come out of the pits and was pushing very hard to make progress. Coming into the turn, the car had been very edgy for me and started to step away but I was able to catch it. But it just snapped too much on Tommy. The impact into the wall was big. I'm just so pleased he was able to get out unaided and walk away unharmed. It shows the strength of the C7 Corvette and the base chassis we get from Bowling Green, Kentucky. It also highlights the hard work and research and development that Corvette Racing does to keep the drivers safe. It's something that is number one on the list for everyone here.'
TOMMY MILNER, NO. 64 KONICA MINOLTA/MOBIL 1/SIRIUS-XM CHEVROLET CORVETTE C7.R - RETIRED AFTER ACCIDENT:
'First and foremost, I'm happy to be in a Corvette. This Corvette Racing team and the group at Chevrolet build the safest cars. We've seen some big wrecks here over the years and all our drivers have walked away fine. So I feel fortunate in that regard. I'm pretty disappointed that our race has ended the way it has. You never want to be in the car when something like that happens. We had just made some setup changes to try and get some more speed out of the car. It was just driver error. I should have done a better job of keeping the car under control but couldn't do it today. I'm just disappointed for my teammates and the crew guys for having our race end like this. You always want to finish the race no matter what. So it's definitely disappointing.'
JORDAN TAYLOR, NO. 64 KONICA MINOLTA/MOBIL 1/SIRIUS-XM CHEVROLET CORVETTE C7.R - RETIRED AFTER ACCIDENT:
'It's just racing. Le Mans is a tough event. A lot can happen, and it usually does. We were running our own race and our pace. That's really all we could do and what we could focus on. Olly and Tommy were doing great jobs and setting super-fast laps for our Corvette. Everyone was pushing, and that's what you have to do around here for all 24 hours. Sometimes it'll bite you but we'll be back next year stronger.'
DOUG FEHAN, CORVETTE RACING PROGRAM MANAGER:
'When you come to Le Mans as many times as we have - this was our 17th consecutive appearance - you see nearly every imaginable emotion throughout the race. Despite some performance challenges, we fought as hard as we could and with all the passion we had. Although the result wasn't what we wanted, we were proud again to represent Chevrolet and all of Corvette Nation at the greatest race in the world. Honesty, integrity, respect and sportsmanship are our foundational pillars. And I can guarantee you that we will be back in the U.S fighting for our Championship there!'