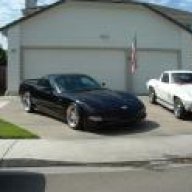 Joined

Oct 28, 2005
Messages

517
Location
Corvette

03 Z06,66 coupe(sold),99 Porsche Carrera(sold)
Recently when I push on "FUEL" and scroll to "RANGE" it will show incorrect info, ie: 36 miles, when I have a full tank of gas. When I'm driving, I can see the "RANGE" start to increase its miles. If this function of the DIC is malfunctioning, can any other function using the "FUEL" button also malfunction? Can the "TRIP" information also be compromised?

I'm asking this because I am still getting poor gas mileage even after taking it to the dealership and being told that they tested everything and all is working properly. I use the DIC to retrieve my trip odometer mileage then divide my gallons into it to get mpg. MPG for a 100 mile drive showed 22 mpg. This car used to average 29-31 mpg for the same drive. What's wrong?

The battery is charged and the dealership gave it a thumbs up. Anyone else have this problem? I'm getting frustrated over this. ARRRRGGGGGHHHHH!!!!!
Last edited: