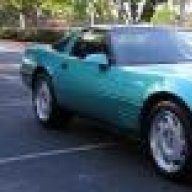 Joined

May 18, 2003
Messages

312
Location
Corvette

1991 Turquoise Metallic Coupe
Last Xmas weekend, the wife and I took our Corvette out for a daylong drive in the mountains and deserts of North Eastern San Diego County, CA. This part of Southern California looks like it came straight out of that Marlboro commercial. Remember those? They called it Marlboro Country. I like to think of it as God's country.
We covered about 350 miles. We drove in a variety of roads from freeways, to mountain twisties, to long open straights. This was also the first time I took the Vette out with my Escort X50 radar/laser detector. That single device made me feel more confident when I opened her up. We didn't encounter too many CHiPs but when we did, our Escort would warn us well in advance of their presence. It's like having the keys to your prison cell. Open whenever you wish!
Anyway, out there, where the roads were wide open with miles of visibility, and very little to no traffic at all, I was able to really put our Corvette on its paces. What a satisfying car to drive! It was a revelation to put the pedal on the floor and be able to keep it there! The 'Vette can accelerate up to triple digits quickly and hold that speed easily. And when the roads got twisty, that wonderful chassis with its near 50/50 weight distribution, superwide tire contact patches, and the power to take full advantage of its handling was a Godsend. What a rush it was to exit a corner, give it full throttle, and feel the car dig in from the rear and use its deep well of torque to catapult itself to the next corner. Even when pushed, the 'Vette remained very neutral with no tendency to understeer, and exhibited nearly zero body roll with the suspension set to "Perf". At the higher elevations, the reserve of power was welcome as the 'Vette never felt lethargic in the thinner air.
All in all, it was a great experience to drive the Corvette the way it was meant to be driven. In the open roads where nothing really holds it back, no traffic, no cops, just the car, the driver and an enthusiastic passenger, and great roads, the car takes me back to the good old days when I first started driving and enjoyed driving for driving's sake. What makes it even better in the Corvette is because of its great performing chassis and powertrain. There is nothing like the sound of a V8. There is nothing like the torque it produces at low revs, which feels like it never stops delivering. And there is nothing like driving the Corvette in God's country, where it is free from its reigns and unshackled from the constraints of the city. What a great experience!