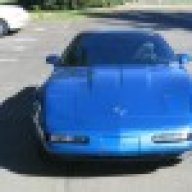 Joined

Jul 23, 2003
Messages

63
Location
Corvette

Quazar Blue 92
Over the weekend I had my car run on a Dyno Dynamics Dynameter. It was a wonderful 62 F and low humidity. The only Mods are a open air box with a KnN filter and flowmaster mufflers. The car has 45000 miles on it and I am the second owner. Based on other threads I was expecting 250-260 RWHP.
They did 2 pulls, the second pull after cooling the intake with a fan, developed 315.7 RWHP at 5170 RPM and 354lbs of torque at 4147 rpm. As much as I love those numbers, and I do, do they sound resonable?

To my knowledge nothing else was done to the car before I bought it although my normal operating temp is around 192. Don't know if that means anything but it seems low compared to some other threads.
Any ideas as to what is going on? I am just lucky or do the numbers sound as over inflated as I think? Also is the Dyno Dynamics Dynameter a reliable system?
Any opinons or help thanks

Finzs Up