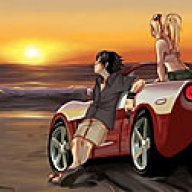 Site Administrator
Staff member
Administrator
Joined

Sep 16, 2000
Messages

13,790
Location
Corvette

1990 Corvette ZR-1
Emerson Fittipaldi Press Conference Transcript
2008 Indy 500 Media Tour
Wednesday, April 9, 2008
BOB JENKINS:
Good morning, everyone. Welcome to the day No. 2 of the media tour. This is a special day for many people, including myself. We get to drive these beautiful Corvettes for the next month.
Now, before we go any further, I realized that a few years ago Chevrolet and other Pace Car providers stopped handing them out to members of the media. The only reason that I get to drive one is because I'm on the 500 Festival Board of Directors, so we get them. This is my sixth and final year on the board of directors, so I'm going to wage a personal campaign to stop this silliness. (Laughter)
Since they've already made the cars and since they're here, we'll get them this year, but maybe I can get them to stop. But it is a great thrill and pleasure to be able to drive these beautiful cars. I parked mine right out here if you want to take a look at it during a break.
As we begin our first session here on the second day, we have a very special guest. He is the Pace Car driver for this year's Indianapolis 500. Back in 1989 and 1993, he won the Indianapolis 500. So please give a warm welcome to Mr. Emerson Fittipaldi right here. (Applause)
Emmo, tell me about this Pace Car. I've only had a chance to drive it around the track once, but it's pretty high performance, and tell us about it.
EMERSON FITTIPALDI:
Well, Bob, first, you know, I'm very happy, very proud to be here and be invited by Chevrolet to drive the Corvette E85 car for the Pace Car this year. I'm very happy for the Speedway to invite me to be here as well.
Every time I walk in the Speedway and I drive into Speedway, I feel goose bumps. This place is magic. I'm very, very happy to be back here on the special year for the unification of open-wheel racing in America. I think open-wheel racing is going to get strong again. We had already some very good races this year.
The message of the E85 ethanol, I think, is a very strong message. IRL was the first category in the world to use ethanol. Corvette want to give the message to the world, the perception to the public that E85 is alternative fuel, is alternative fuel made by two countries in the world, leading countries, that's Brazil and the U.S., was the first countries to use ethanol and produce ethanol. I think that's a great breakthrough and through motor racing we can show the world how efficient ethanol is. Because the regular public, they have no idea that it's a very strong, very efficient fuel. Through motor race we can show that.
Talking about Corvette, Bob, I mean three weeks ago I went to Bowling Green, Kentucky. I visited the Corvette Museum. I visited the factory. It was great to see so much enthusiasm, so much effort put in an American car that's the best performance car in America. I was very surprised; I drove the Z06 a year ago in Interlagos (Brazil) at the grand prix track. It is amazing handling, good power. It is a lot of fun to drive. I'm sure you're going to have a lot of fun with your Corvette this weekend, this month of May. The car is outstanding.
I think the whole tradition, the whole experience, technology they put in the Corvette today, I drove the new ZR1, that's amazing. America should be very proud to have the Corvettes. I'm very proud to be here driving the Corvette for the month of May and leading the 33 cars and give this message to the world. I think it's a special year, and I'm very glad to be here.
JENKINS:
I want to follow up on something that you just said. You have accomplished just about all there is to accomplish in the world of motorsports during your career, but you still get that feeling that a lot of us get when you pull in the grounds here?
FITTIPALDI:
Well, for sure. I mean, there's so much tradition, so much history in this place. Very good memories of myself being here for so many years. It's always great to be back here.
JENKINS:
Have you done any on-track testing of the Pace Car? Have you been out there getting ready for Race Day?
FITTIPALDI:
Well, I think it will be one hour from now. (Laughter)
When we finish here, it will be a lot of fun to drive. The track is drying. It should be good. The car is capable of going over 200 miles per hour. It's fast.
JENKINS:
No kidding.
FITTIPALDI:
Very fast. It will be a lot of fun. I drove the car around the factory in Bowling Green, and, I mean, I got excited about the car. Incredible brakes, good handling, safe car and tremendous power. Tremendous power.
JENKINS:
For those of you who have never been to Bowling Green, Kentucky, I really would urge you to go down there. It is a wonderful place to spend a day. There is a museum down there and you can also literally see a Corvette made from a pile of scrap. It all comes together, and each one is driven off the assembly line. It is something to see and a very, very entertaining place to go.
OK, let's open it up for questions here for Emerson Fittipaldi.
Yes, sir, right over here.
Q:
Two questions for you, Emerson. Your success in open-wheel racing in America came with Indy cars when it was still under the CART logo or banner. Have you ever driven the latest Dallara just to see how different the car is from your time? And the second question, you're very enthusiastic about the Corvette, maybe in the future maybe a job with Chevrolet to become a development driver for future Corvettes?
FITTIPALDI:
Well, first, last race year was my last season of IndyCar was '96 when I was driving for Roger (Penske). Lately, about two years ago, three years ago I drove Schumacher's 2003 Ferrari at Goodwood. But Goodwood was raining. It was uphill. It was not so much fun because you are restricted by the type of track. But Ferrari is organizing just before Indianapolis, I'm going to drive at the Fiorano racetrack. I want to compare, and it would be great if I can compare what we are looking for to do Ferraris to drive a modern Formula One car and drive the 1974 Niki Lauda was when I was driving for McLaren Formula One. Compare the 1974 Ferrari with a modern one, go back 30 years in history with the same car, the same track. I think it would be an incredible comparison.
The modern technology, I would say the big difference is the speed into the corner, the cornering speed has been tremendously increased since 30 years ago mainly because the downforce. The cars today have so much more downforce, power more than before. The brake efficient, it is amazing today you can brake inside the corner. I think that's the biggest difference.
But one of the biggest gain in motor race, I always say the last 30 years, has been safety. If you look at today's crash that happen, the carbon fiber chassis is so strong, and the drivers just walk out of the car. I mean, that's the biggest gain we had. Plus electronic, I mean the electronics is a big help to the driver, to the engineers to analyze the car, what the car is doing on every lap on every part, on every inch of the track. They know exact, they can read through all the data that's available in the car, they can read exactly what the car is doing and stop all this bull**** of racing drivers. (Laughter)
No lies anymore. You can read now. (Laughter)
But I'm working very close with Chevrolet: I hope in the future we continue working together. I mean, Corvette and Chevrolet has a new effort into racing. I was in Le Mans two years ago as a Chevrolet guest. Watched the first time I went to the 24 Hours of Le Mans, and the Corvette beat the Ferraris, Lamborghinis. It was a great win. All the high performance and sophisticated cars. I was lucky that when I was there, we won, Corvette won because if not, they never invite me to go back again there as a guest.
Anyway, it was a great experience to be in Le Mans. I know the Corvettes are just dominating the series.
JENKINS:
Questions?
Rich.
Q:
Emmo, I believe you were involved in the Champ Car series for a while. Would you have an interest now, particularly with unification, into getting back into the sport as a team owner or in some other capacity?
FITTIPALDI:
Well, I think everybody now looks at different view. Yes, sure. I now am a hundred percent involved in A1GP. We are racing next weekend in China next Sunday. The last race was in Brands Hatch. I'm full committed to the Brazilian team. But why not think in the future, yes, I think the open-wheel racing is going to get big again in America. I like very much the combination of oval tracks and road circuits. I think it's a challenge for the drivers, challenge for the teams. And I'm looking forward in the future, why not in the next few years?
Q:
What do you see as being the biggest advantage of the unification for this year's Indy 500?
FITTIPALDI:
Well, I think if you go back in history, I remember from 1985 to '96, for 10 years open-wheel race grow so quick in America. And we had in '93, you had the Formula One world champion join us, Nigel Mansell. And I think that's showing how important was IndyCar race at that time for the sponsors, for the spectators, for the TV, for the journalists, for everybody involved in racing. I think it was great racing to watch, very competitive, a lot of talent, a lot of good teams. And now will be back again together. I think that is a win-win-win situation. Everybody is going to win now. I think the racing fans will love it. The sponsors will love it. The drivers, the team owners. I think it will be just a win-win situation from now on. I'm very happy. You know, I want to congratulate the Speedway and Champ Car to get together because that's great for the sport, great for motor race global, not just in America.
Q:
Emmo, besides the Speedway, this Speedway, is there another track in the North American continent that you really, really appreciated and would love to go back to drive?
FITTIPALDI:
Well, always as a road circuit, I always enjoy Long Beach Grand Prix. The history, the tradition of Long Beach is great. As a technical circuit, I love Elkhart Lake. Elkhart Lake is still one of the most what I call the historical type of tracks, road tracks in America. That is a big challenge for a driver, fast corners, fast track, uphill corner, downhill corner. It is a great racetrack. But as an event, Long Beach Grand Prix I would say -- you know, Indianapolis and Long Beach Grand Prix.
Q:
Emmo, have you had a chance to drive the E85 Corvette Pace Car? If you have, how does it compare to the unleaded fuel Pace Car?
FITTIPALDI:
Well, I'm going to drive as soon as I finish here, I'm going to drive. But I know the performance is better with ethanol. It should be -- I'm very excited to drive the car. I'm sure you guys saw the car. It looks beautiful. They made it; I call the paint that tries to project ethanol. I saw the first prototype in Richmond last year. They had the car painted the same color that I saw today the Pace Car. I mean, it looks beautiful, and I'm sure is going to run very fast. I can take you around if you want. (Laughter)
JENKINS:
Other questions?
OK, Ron.
Q:
Emmo, could you give us an update on the racing progress of Marco Papis?
FITTIPALDI:
Marco Papis? Well, he's coming the month of May here. But I'm very happy that Max is going to drive again. Max is very enthusiastic. It will be a family get-together again. I will be here, my daughter, and I think we're going to have fun. I hope Max can do well. I always loved the oval tracks; he always did well in oval. It will be a challenge for him again to be back in Indianapolis.
Q:
You said how fast that Pace Car is, it's 200 miles per hour, you haven't led here in a while, when they drop the green, are you going to have any idea of staying out there?
FITTIPALDI:
It will be the first time I come leading the field and nobody can overtake me. (Laughter)
I'm sure it will be a great experience, and on Race Day there will be a lot of excitement. I mean, it's very special.
JENKINS:
Anyone else?
Q:
Emerson, how important is it for motorsport to take the lead in green racing, environmentally conscious racing? Can that spur further development in the industry?
FITTIPALDI:
Well, I think like traditional motor race, motor race always the leading of technology, always showing, you know, the new what I call new inventions, new development, new way. Give you an example, the disc brakes, safety belts, there's so many examples I can give that motor race technology introduce to motor racing cars, and then 10 years later we're using in the family car.
And the ethanol, a lot of people has the wrong perception of ethanol. I mean, including the Speedway used methanol for a long, long time. And since the '70s, if I'm not wrong, the Speedway started using methanol, and ethanol is very close to methanol. It is a better performance, it keeps the engine cooler. It is recyclable energy -- renewable, sorry, renewable energy. We don't depend on countries for the energy or the other countries; it can be a national type of fuel. It is produced here, produced in Brazil. I think there's so much more gains. And so motor race, we can give the example of the performance, of the quality of the fuel, how the car runs. I think that's a great message.
I mean, when IRL changed to ethanol, I think was the first time there was a big message to the world that a racing car runs very fast on ethanol. Now with the E85 Pace Car, is going to be another strong message. Because in America you have E85 at the gas station, and a lot of people buy a car in America and still don't know, they don't know the car is E85. The perception of the public is still they are not well-connected that there is E85 available in the gas station, that you can go there and you can use, and that ethanol is not just a high-performance fuel, but at the same time is generating a lot of jobs, it generates the money stays here in America, generates new economy for the farmers. I mean, there's a lot of positive trades.
Even if there's always some criticism against ethanol, normally that's going to happen on new type of energy, but ethanol is, again, is a win-win situation to the country. I know Brazil is doing this for 34 years now. Today the fuel consumption in Brazil is half the fuel consumption is ethanol and half of the fuel is the regular gasoline, regular fuel. That shows how we start 35 years ago in the first oil crisis. We have now in Brazil 28,000 gas station with 100 percent ethanol, not just E85, we use a hundred percent in Brazil.
And the technology of the flex-fuel cars, you can put any type of fuel in your car. I mean, that gives a big advantage for the regular customer that go to a gas station, say, OK, now the price of ethanol is better, I'm going to put ethanol. The next day he can put fuel in the same car, gasoline, and run. I mean, that's racing technology showing the world that we're always ahead of the regular cars, and we are always reaching for the best technology, for the best performance, to be reliable. I mean, that's how you win races, and that's showing the technology.
JENKINS:
Right here in front. Got time for two more questions before we open it up for one-on-ones.
Q:
Emmo, you've had a lot of success here at the Speedway. I'm wondering if you wouldn't mind talking just briefly about the year you and the Penske team did not make the race.
FITTIPALDI:
Well, it was very tough. It happened to me in the Grand Prix racing. I didn't qualify once for the Belgian Grand Prix. I had the experience and the first way to go to a race; we come here with the Penske team, and we are surprised our car is not fast. I remember jumping on Hogan's car, and it was the Rahal-Hogan team. I was able the last, the last lap, I mean, the first three laps I was in a good average, and I was looking good. I say I'm qualifying for the race. When I come out of Turn 4, I knew it was going to be even faster that lap and was a faster lap. And then Roger waved the yellow flag, and I understand Roger because Roger, for us, for the Penske team at that time was not as we expect to be. And he say, 'Well, let me wave Emerson, try to run again.' But we went back in line, and we never run again. I was not able to qualify. But if I complete that qualifying lap, I think I would be 21st or 22nd with that speed, and we were in the race. But Roger wave and was a big frustration in the garage and myself, Al Unser Jr. and Roger. Always in motor race you have to learn how to lose. You know, it's easy to win, but it's difficult to know how to lose, and you have to know how to lose and come back strong again.
JENKINS:
OK, one more question, anybody?
OK, let's open it up for one-on-ones with Emmo here for a few minutes, and we'll be back at 10:00. Thank you, Emmo.
FITTIPALDI:
Thank you, Bob. (Applause)