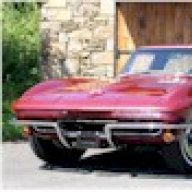 Joined

Apr 2, 2004
Messages

4,611
Location
Corvette

1965 Coupe L76 / 1978 L82
well, I took my '65 down the dragstrip for the very first time today.
Mason Dixon chapter NCRS held their annual "Corvette Challenge" today at the Cecil County dragstrip in Rising Sun, MD. I've gone to this even before for the last 2 or 3 years but one thing or another prevented me from running the car but this year I could and decided what the h*ll.
I've never run this car nor any other car ever on a dragstripso it was a learning experience as I figured it would be. I learned I need a LOT more practice before I know what i'm doing and before I can get any decent times! :eyerole
I made four runs and actually my very first run was my best and than they got progressively worst. Oh well.
Actually, I don't think my first eun was all THAT bad considering my car is 100% stock and it was my very first time doing it.
I made bad mistakes on my launches on the next two runs and than when I tried to correctl them on my last run I just simply sat there burning rubber at first and than ended up missing a shift so we won't even talk about that last run at all....
anyway, for my first run which was my best time here are the results:
r/t = .583
60'= 2.349
330= 6.226
1/8= 9.426
MPH= 77.12
1000= 12.162
1/4= 14.466
MPH= 98.12
this is with my '65 coupe. stock L76 327/365. 4.11 rear gears. 205/75-15 radial street tires. I had about 1/2 tank of 93 octane in here but than topped it off with 110 racing fuel at the track. I'm sure the racing fuel makes NO difference but I figured why not put some in anyway. Actually, I guess it was dumb to do that since it just added more weight to the car.
I figure my reaction time needs a lot of improvement but that just takes practive and getting use to the tree lights I'd imagine. Looking at the other time slips I did get my reaction time down to .332 on one run. Ironically it was the last run which was my worst.
My buddy staged next to me on that last bad run I made and his reaction time was only .008 to my .332. Yep, I need a lot of practice. :ugh
Oh well, maybe if I ever do it again I'll do a little better. Regardless, it was still a lot of fun and I'm glad I did it. I can see how it's very additive for a lot of people...
BTW, ChuckG was there running his '69 BB tri-power and he broke into the 13's....