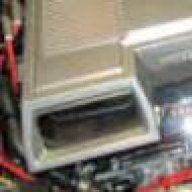 Joined

Sep 9, 2009
Messages

66
Location
Corvette

1984 Red Coupe
Hi, folks. Working my forever tune crossfire project... Here's my current set-up...
383 Stroker, Comp Ratio ~10.5:1, Speed Pro Cam - Valve Lift .454 Intake & Exhaust @ .05 - Lobe Sep 110° - Duration 218° I&E, Aluminum Heads 64CC - 245 @. 450 Lift, 80# Parallel Plumbed Injectors, TB's bored out to 2 inches, High Pressure Fuel pump set at 24#'s, Vac referenced fuel pressure regulator , Renegade manifold, long tube headers (headman), EBL ECM, 700R4 with shift kit and stall, NB & WB O2 sensors.
Being not much more than a weekend mechanic it's been a struggle getting the tables down to where things feel right. Although, finally I believe I have a half decent running car. Contributing to my struggle were a set of bad injectors and wrong plugs that kept me chasing the wrong issues.

I've been posting things out on Thirdgen where some really knowledgeable EBL TBI tuners reside. Trouble is based on lack of response I believe I have worn out my welcome there with my didn't-we-make-that-clear-already questions.
Not to mention it ain't a Camaro I'm tuning.
Oh, well.

So, lets try some peoples patience here...
:eyerole ...and perhaps maybe inject a life into this forum (or maybe not)
.
Here's where I'm at - car feels pretty strong but I'm running too rich (10-11's) in some of the high load areas (90-95 kpa's). I'm hesitant to lean it out because I've been getting some knocks. Played with dropping SA table but it felt like I losing power (could be wrong about loss of power thing). Anyway the first thing I want to throw out here is the knock results - this was what I got.
Are any knocks bad or is it OK to live with some knocking as in below?