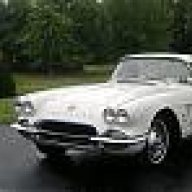 Joined

Aug 30, 2006
Messages

50
Location
Corvette

1962 Ermine White Hardtop
The 62 that we bought at Carlisle has an engine that's turning into a bit of a mystery. I know it's a NOM and everyone told us it was from a 67. We talked to the man who built the engine and he confirmed it was a 67 with solid lifters, high lift cam and domed pistons. He couldn't remember which heads he put in it.

The block number 3959512. The casting date is I187. My neighbor (who has a 69 Z28 Cross Ram) has a 'Chevrolet by the numbers' book and according to that, the block should be a 62-63 250HP 327. This doesn't quite jive with the September 18, 1967 date stamp, though.

The right side head has a lopsided triangle cast into it and the left side has two humps (haven't pulled the valve covers yet to get numbers). The book indicated that the triangle head was a replacement for the two hump head and differed only in that it has a boss for a temp sender and 3 accessory holes threaded into the back of the head.

Add to the mystery that the car has FI emblems, the holes in the driver's fender for the FI air cleaner and an FI distributor but the tach redlines at 5500rpm...I sure wish build sheets for 62s were available!!

We got into all of this because I've got a wicked vibration whenever I set the car in motion. It smoothes out as you drive, but the entire car shakes as you get moving from a stop. The right front wheel bearing was a little loose, so I adjusted it and that got rid of some of it...but it's still there. I also adjusted the brakes since they seemed to be dragging a little too much, but that didn't help either.

I've rambled enough...thanks for any help.