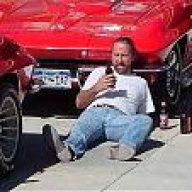 Joined

Feb 15, 2003
Messages

209
Location
Corvette

64 Black Roadster; 85 Coupe; 09 G8 GT 4-door Vette
HELP! I'm a dyno addict!! We need more horsepower!!!
You remember my earlier thread regarding the dyno results of a mild 383 roller engine that I build for a friend and Vette enthusiast: We got 407 horsepower and 444 ft/lbs of torque:
http://www.corvetteactioncenter.com/forums/c3-technical-performance/125743-383-dyno-results.html
Here's the engine in the original configuration. Note the stock-type Edelbrock "EPS" manifold which seemed to limit our performance: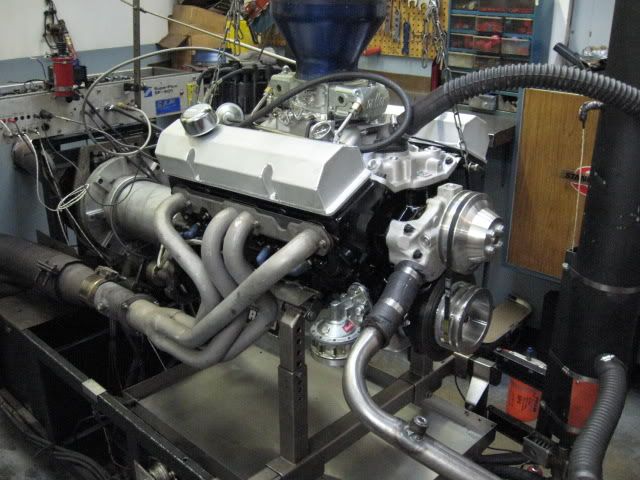 407 hp is not enough. We're going for 420.
I just finished installing a Performer RPM Airgap on the 383, and just got a fantastic set of Stainless Steel 1-7/8" headers for a smokin' deal by promising the builder that we'd give him dyno data (these headers look AWESOME - see photos - check out the flanges on those headers...!). I'll give him a plug here once I have results:
I also had Henry out at Ole's Carbs send me some Wilson Tapered Spacers (these things look SOOOOO cool), and he gave me an HP750 Holley to run against the BG750 currently on the engine.
So here's the plan:
First, I'm putting my old 1-5/8" headers back on the engine and running it with the new Airgap RPM manifold and the BG750 - this will give me good comparison data to the first run using the EPS manifold and the small headers, with only a manifold change.
Then, I'm swapping over to the sweet stainless 1-7/8 headers. This should be interesting...
Once dialed in, I'm sliding in a Wilson 1-1/2" Tapered Spacer on top of the Airgap and re-setting mixtures for best performance - I don't care if this fits under the poor guy's hood - he can cut it. I can show him how.
Then, the Holley HP goes on and gets optimized for A/F ratio. We'll see if the Holley can kick butt...
For the final blow-out shot (using whichever carb is the best), I'm retarding the cam 4 degrees to get the max top-end power and running this thing until the HP curve drops off the back side at over 6,000 rpm (or until the valves float or rods break - whichever comes first).
This stuff makes my nipples hard.
Stay tuned for results and back-to-back comparison data that you always wish you could afford to get.
Lars