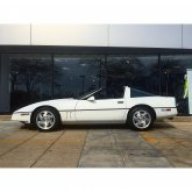 Joined

Apr 21, 2018
Messages

8
Location
Corvette

White 1990 C4 Targa
Hey Guys (and Gals),

I bought a pristine '90 C4 a couple of weeks ago with 80K on it. I've been driving it daily without issue. Friday night, I parked the car as normal. Saturday morning, it wouldn't start. I checked the fuel pump, and it was working. I had compression as well. I did some digging, and decided to replace the ICM and the rotor. After that, the car started- but wouldn't idle! I feathered the accelerator for a bit, and when the car heated up to around 190 degrees, I could take my foot off the pedal and the car would maintain an even idle on its own. If I shut it off, I could start it with no problem, and it would idle on its own.

This morning I went back out to drive the car to work (it was cold out), and again, it wouldn't maintain an idle on its own. I warmed the car up, and drove it to a repair shop. They haven't been able to find out what's causing this? Do you guys have any thoughts? This is my first Vette, and I'm looking at it like a learning experience- or, as my one car buddy said it, "Daily driving a C4 is considered an extreme sport by most people."

ANY help would be appreciated. My thought is maybe it's the throttle position sensor...?

Thanks in advance.

UPDATE: I'm starting to wonder if it's not the Coolant Temp Sensor? I noticed my second fan does not turn on, even with the A/C on.
Last edited: