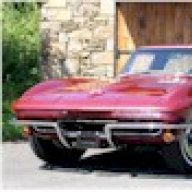 Joined

Apr 2, 2004
Messages

4,611
Location
Corvette

1965 Coupe L76 / 1978 L82
Hi all

Thought this might be a little handy for some people as it just made life a lot easier for me.
If this is old info or already known by most people I apologize but it wasn't known to me at least.

i'm in the middle of changing out my ignition wires on my '65. Drivers side is isn't too bad at all but as we all know the passenger side has much less access because of the heater hoses, battery, and even to a small degree the alternator. NOT fun to try to get your hands in that small cramped area and still be able to move it around to do stuff.
The biggest issue is trying to feed the #2 & #4 wires correctly thru the motor mounts as they are suppose to run so I came up with a simple idea:

Take a piece of rope or wire, I had some 2-conducter/16ga electrial "zipcord" laying around so that's what I used. Pull the end boot off the #2 ign wire when you disconnect it from the distributor cap and tape that end of the wire to a length of the rope or other wire you are going to use as a "fish". Pull the other end of the #2 wire off the sparkplug and pull it thru the motor mount carefully pulling from the sparkplug end untill the old ignition wire is completely pulled free BUT STILL LEAVING the length of the rope or fish wire running thru the motor mount. Untape the old #2 ign wire and than remove the distribtir end boot off the new wire you are going to install and tape it to the fish wire or rope. Now pull the fish wire thru pulling the new ignition wire thru the motor mount.

Repeat the process for the #4 wire.

Now, I don't have the "V" shielding pieces on my car but that makes fishing the old wires out and feeding the new wires in even more difficult so this process will also work and make it MUCH easier also when you have those additional shielding pieces installed on your car


After coming up with this idea it only took me all of about 5-6 minutes to get both #2 & #4 ignition wires swapped out and I had REALLY been dreading this. Best part is my fat hands didn't have to be jammed down in there trying to feed the wire thru inch by inch and getting all cut up on the shielding brackets, the corner of the battery box, the corbim clamps of the heater hoses, etc.

I hope somebody else can also make use of this idea and save themselves a lot of trouble and hassle.