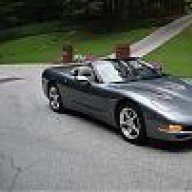 Joined

Sep 25, 2006
Messages

21
Location
Corvette

2004 Spiral Gray Convertible
Hello again.
I've got another question. Being a relatively new owner of an '04 Vert, naturally I want to start adding some stuff. One of the first things is an air intake system...breathing is good. I'm currently looking at both the Blackwing and the Hurricane, haven't decided which one yet though.
My question is this, what is the difference between the stock GM Air Bridge and the power Ducts I see in all the catalogs ranging in price from $170.00 up to $250.00, and are they really worth it? The manufacturers are claiming 6-8 hp by just replacing the bridge, not the filter! It also makes sense to me to replace the original GM accordian style air intake coupler with a smooth power coupler for about $50.00, since the turbulence the accordian coupler creates is not a good thing.
Having worked on Harley's for quite some time (after all a motor is a motor. And a motor is nothing more then a BIG air pump) I know that by putting a High Flow air cleaner kit on, you can get a significant HP gain, (for the amount of dollars spent) Dyno Proven, so the air filter and coupler makes sense but the bridge, I'm not sure I buy that.
Please enlighten me as to the difference between the stock air bridge and the expensive after-market one and in your opinion if it is worth it or is it just hocus pocus. :confused

As always your comments/suggestions are gratefully appreciated. Thanks
__________________