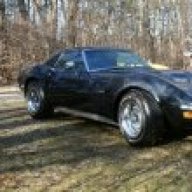 Joined

Nov 2, 2007
Messages

441
Location
Corvette

1972 LS5 Convertible PS, PB, A/C
Hello all!
I've got a numbers matching 1972 big block car. The origional quadrajet is pretty far gone (fuel bowl has corroded very badly). I have future plans to get it restored (if even possible). In the mean time, this car is in a pretty poor state, with all kinds of wrong or butched parts all over the engine bay. It will take me years to restore to factory stock. In the mean time, I just want to get the car running and driving as cheeply as possible. I've acquired three cheap Holley Spread bores to try out.
Now before I go futher, I know Holley v.s. Quadrajet discussions tend to be polarizing. I really do not want this thread to turn into reasons to use Holley spreadbores v.s. Quadrajet. This argument is not the reason for my post. I'm going with a Holley for now (because I got them free), and I'm looking for advice on which one to use and any tuning / setup advice.
The only performance mod my engine has is long tube headers. Initial timing is stock at 8 degrees. Vacuum at idle (750 rpm) is steady at 20 inches.
The three Holley carbs I have a all 4165 double pumper carbs:
1) List 6210-3 (650 CFM single fuel inlet)
2) List 6211 (800 CFM single fuel inlet)
3) List 6213 (800 CFM dual fuel inlet)
I've rebuilt the 6210-3 (to holley stock specs) and the car runs reasonably well with this carb. Techincally with a readline of 5300 this carb should be more than enough from a VE perspective . .but really the 800 CFM carb would be so much cooler.
I've rebuilt the 6211 and the car does not run as well. The car runs super rich at idle. . .and pops out of the tail pipes during idle. . .and will occasionally backfire when down shifting. I've got the jets set to stock speck with a 6.5 PV. The major problem with this carb is that the idle mixture screws seem to be almost uneffective. I can turn them all the way in and the car will still run. . .even with the idle speed screw removed. When I back the mixture screws out. . .the vacuum drops. Keep thinking the IFR's have ben drilled and they are now too big. I'm in the process of trying the "wire" in the IFR's trick. Haven't reinstalled the carb to see if it made a difference. I've set the mixture screws to 1/8 out and left them there. I know some carbs were reverse idle carbs. . .but I'm not sure if this one qualifies. Seems to get richer as I turn them out. . .but may be wrong.
I've just received the 6213. I really like that this carb has the adjustable center float bowls. . .and looks more like a true holley.
This carb needs to be rebuilt. . .but I'm thinking this might be the best carb to use. Hoping it doesn't have some of the same issues as the 6211 that I have.
So the question is. . .of these three. Which one would you use. And if you have used these carbs before, what was the best setup that u found with a 454.
Thanks for any input!
-Bolisk