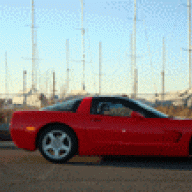 Joined

Apr 18, 2002
Messages

1,441
Location
Corvette

1999 Torch Red Coupe
How Ironic!

I am posting this in the event that the driver didnt actually own the car, and it belongs to some one here, or some one you may know-
Driving home from work yesterday at 3:45PM, in my Bonneville on the Jersey Turnpike south bound, Western spur, stop and go traffic for miles. I came to a complete stand still just past the toll plaza and than THUD!, some one hits me from behind. No major deal, but enough to warrant getting out to take a look.

I got hit by a black C6!!!! The guy driving didn't speak a word of English and the car still had the temp tag in the window. He had a noticeable scratch where the front hit my bumper, I had no visible damage. He didn't even want to look at first. No exchange of papers.

How ironic.