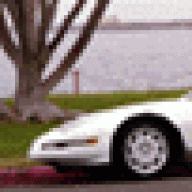 Joined

Nov 12, 2001
Messages

444
Location
Corvette

1992 Convt w/hard top; 2004 Z06 Z16; 1962 327/300
OK, so after several attempts by the dealer to fix the jumping serpentine belt (that was caused by a dealer), it is still not fixed.
The hub and balancer have been replaced (again), along with the tensioner, idler and p/s pulley.
Everything has been inspected at least once.
The 1-800-222-1020 (Chevy Cust. Support) says that there is nothing they can do to help (Even though the problem was created by a dealer)
The dealer that is working on it is owned by the same one that messed it up in the first place. So far, they have been working on it for free, but they have stopped since they can not duplicate the problem on command. (Basically, it only jumps when I am driving.)
Who do I talk to?
How do you reach someone that will help solve this?
Ideas? I am about ready to shove my vette off a cliff, and go buy a non GM vehicle.

Thanks
ps. I left a voice mail for the owner of the dealership yesterday, and still no call back.
pps. Vettes on the Rockies is this weekend. Busted vette and the biggest vette even in the state. ;help