Joined

Jun 5, 2017
Messages

5
Location
Corvette

C4 track car
Hello Corvette folks! This is my first post here after randomly finding this forum while trying to solve a problem with my alarm going off when trying to unlock the door using the remote, and while I still haven't solved that problem yet (I suspect it's the battery and having moved in the last month have no idea where my multimeter is at the moment) I have learned quite a lot about this new-to-me car. I figured I'd say hi and show you what I'm building.
Let's start at the back: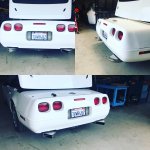 What's that? Why would I turn the exhaust off to one side? Well here in Northern CA we have a track that has a rather restrictive sound limit. They have a microphone 50' off the right side of the track at an uphill turn and if you're too loud you get black flagged and are expected to do something to get the car quieter. If you get flagged a second time, you're done for the day. End of story. So those tips slip over the ends of my Borla exhaust and bolt in place to keep from getting flagged for sound.
Since the 1992 Convertible came with no roll-over protection, that's also a non-starter. So in went this baby here:
That's welded to the frame and allows the roof to go up and down normally.
Of course, I have been gutting things as I go. The rear carpet and rear speakers and stereo and wiring are all gone.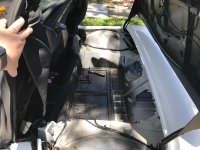 Luckily my neighbor fabricates plastics so I don't have a big ugly hole in the dash where the stereo used to be. I've got a nice flat black panel that looks like it came from the factory. No pics of that here with me bit it looks pretty nice.
As far as performance goes, well, I wanted to get the car ready for the track and take it out and see what it needs. It's got mismatched tires on it but a pretty good aftermarket suspension of some kind. As it's a pretty old car a number of shade tree mechanics have had their chance to tune and retune the car enough to where I don't think much of it is stock but I'm not sure what is helping or doing more harm than good at this point. The previous owners didn't document a thing, naturally, so I've got a lot of surprises ahead I'm sure. As I've only had the car a month and have been more busy moving house than anything it'll be a bit before I get to know the car all that well. It's certainly not the typical car to build into a track car but that's kind of the fun of it. My last car was a 911 and I think this will keep similar lap times once I get it dialed in a bit.
Anyway, this is my first post here so hello and thanks for having such a good forum with tons of useful info. Nice to meet you all.
Cheers,
Thomas