IMSA SPORTSCAR WEEKEND-ROAD AMERICA RACE INFO​
**Alternative Broadcast Alert **
Make sure and tune-in August 6th to the Pratt Miller Motorsports alternative broadcast stream with a MODIFIED SCHEUDLE from Road America.
Luke and Brad will be ON SITE in Wisconsin for the weekend and will be streaming several live hits throughout race day.
(Pending a reliable cellular connection) The schedule is as follows. Times listed below are Central time:
9:30a – 9:40a – Fan Walk
10:10a – 10:20a – Green flag from pit
11:30a – 12:00p – Mid-race recap from the Thor Industries RV
12:40p – 12:50p – Checkered flag from pits
1:00 – Podium Celebration if we win/place/show
OR
1:00 – Post race recap from the Thor Industries RV
Stream will be carried on Facebook, YouTube, X and Twitch – Links below
prattmillermotorsports | Twitter, Instagram, Facebook | Linktree
IMSA SPORTSCAR WEEKEND-ROAD AMERICA
August 3-August 6, 2023
Elkhart Lake, WI
Times posted below are Eastern, Race track is on Central time
Track: Road America
Race Duration: 2 hours 40 minutes
Circuit Length: 4 miles
Entry by Class:
GTP - 10
LMP2 - 7
LMP3 - 8
GTD PRO - 5
GTD - 16
QUALIFYING Saturday, August 5, 2023
Live Streaming:
http://imsatv.imsa.com/
1:15 pm - 1:30 pm EDT Qualifying - WeatherTech Championship (GTD/GTD PRO)
11:40 pm-1:55 pm EDT qualifying-LMP3/LMP2
12:05 pm- 2:25 pm EDT Quaifying-GTP
Sunday, August 6, 2023 Television & Online Broadcast
TV LIVE: USA: 11:00 pm-2:00 PM ET
ONLINE STREAMING:
Peacock Streaming: 11:00 am -2:00 pm ET
IMSA.com (for live images, in-car cameras and announcers)
International: 11:05 pm to 1:50 PM EDT
LIVE TIMING:
Live Timing for mobile device:
Radio: IMSA Radio
1) Streaming on IMSA TV
3) XM 207 (11:40 am ET)
4) SiriusXM Online 992
5) local 87.7 FM
PIT NOTES:
http://twitter.com/
@CorvetteRacing, @PrattMillerMS, @IMSA, @IMSAlive, @roadamerica
Race Tickets and Corvette parade tickets
https://www.gatemastertickets.com/s...4,123,+201,230,229&CompanyID=GM206&clear=true
Event Schedule:
Spotters Guide: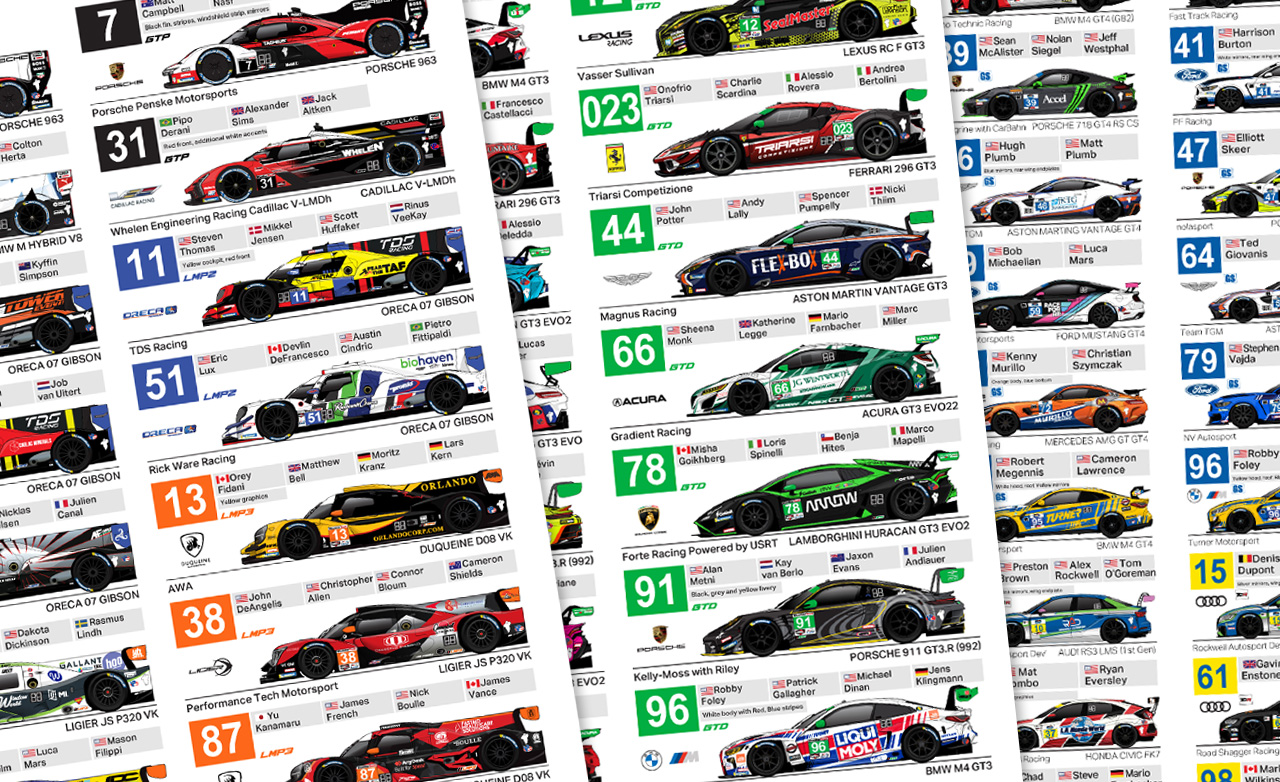 IMSA Spotter Guide, featuring 2022 WeatherTech SportsCar Championship, & the Michelin Pilot SportsCar Challenge starting with the Rolex 24 at Daytona.

spotterguides.com
Entry List:
Road America BoP
Track/Facility Maps:
Pitlane Assignments:
WEATHER:
HOTELS:

You're not just visiting one of the greatest race tracks in the world, you're visiting one of the greatest areas in the ...
www.roadamerica.com
Corvette Corral:
see below