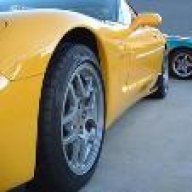 Joined

Oct 31, 2004
Messages

447
Location
Corvette

1982 CE, 03 MY Z06
Went and had a dyno run today and found out I'm way too lean. I start out at 12.5 and then leaned out to 13.9 @ 5000 rpm. I have 22# pink tops in now and I thought that would be fine with the new motor...Guess not! The guy at the shop recomended 30#. That seams too big if I only need to drop my air down a couple of points. My intake is a ported stock piece w/ stock runners and my cam is a 210/216...nothing too drastic. But I am running 11:1 comp pistons that might have something to do with sucking so much air. Oh, I also have a Fast Chip too for my application. :confused

Does anyone have any suggestions.

I was thinking more along the lines of 26# - 28#.