VIR Race Info
Michelin GT Challenge at Virginia International Raceway
Danville, VA
Aug 26 - Aug 28, 2022
Track: Virginia International Raceway
Race Duration: 2 hours 40 minutes
Circuit Length: 3.27 miles
Entry by Class:
GTDPro: 5
GTD: 13
Live Qualifying: Saturday, August 27, 2022
03:15 to 03:30 pm EDT GTDPro/GTD
Online Qualifying Coverage
Race Broadcast: Sunday, August 28, 2022
US: TV: 2:00-5:00 PM ET CNBC
US: Peacock Streaming 2:00-5:00 pm ET
International: 2:05 -4:50 ET
IMSA: TV | IMSA
Radio: IMSA Radio
1) Streaming on IMSA TV & Radio Le Mans:
3) XM 207 (2:10 ET)
4) SiriusXM Online 992
PIT NOTES:
http://twitter.com/
@CorvetteRacing, @IMSA, @IMSAlive, @VIRNow
TICKET INFO: TICKETS CAN BE PURCHASED AT WILL CALL OFFICE ONSITE
Purchase early and save! Tickets purchased by August 11 are $55.Tickets purchased after August 11 are $65. Tickets will remain available for purchase online (print-at-home and mobile only) and at the front gate throughout the event weekend. Complimentary parking and paddock access...

www.etix.com
Event Schedule:
Entry List:
BoP
Maps:
Pit Lane Assignments:
Spotters Guide: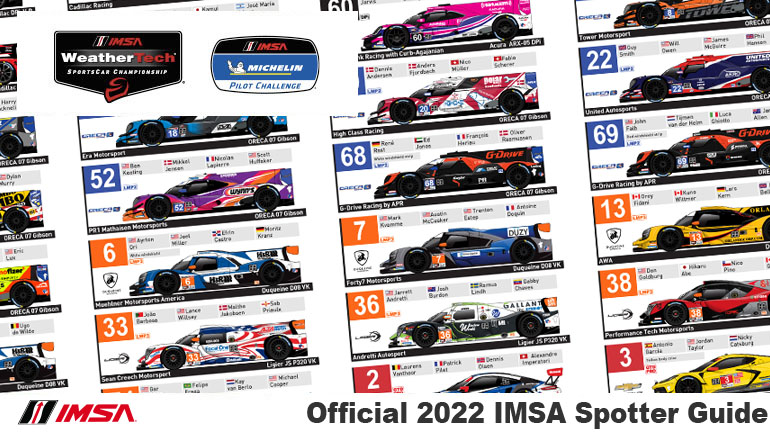 IMSA Spotter Guide, featuring 2022 WeatherTech SportsCar Championship, Michelin North American Endurance Cup & the Michelin Pilot SportsCar Challenge starting with the Rolex 24 at Daytona International Raceway

spotterguides.com
WEATHER:
Motorsport weather forecast for Virginia International Raceway, United States Of America. Race track details on temperature, wind speed, rain, cloud, humidity, pressure for race track.
www.myweather2.com
Hotels:
Corvette Corral:
No info available