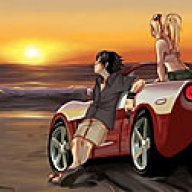 Site Administrator
Staff member
Administrator
Joined

Sep 16, 2000
Messages

13,886
Location
Corvette

1990 Corvette ZR-1
<img src="/images/design/front/c6r3.jpg" width="175" height="117" border="1" alt="" align="right" />More speed but less success for season
Bad luck and errors prove to be costly, but team and mates win championships
Dec. 9, 2006. 01:00 AM
RON FELLOWS
It has now been several weeks since our racing season ended.
For Corvette Racing (my day job), the battle for the Manufacturers Championship came down to the final hour of the last race. We needed to finish second if an Aston Martin won the GT-1 class race.
With all the competition adjustments — more weight and more engine restriction — the final race at Laguna Seca was still won by an Aston Martin.
We were all racing at 1,150 kilograms (minimum weight), which was down 30 kilograms for Corvette and up 50 for Aston Martin. The only difference was engine restriction, where we were still handicapped with less power than our GT-1 class rivals.
In the final hour, the Aston Martins were first and second, so it was not looking very good for us.
Then the second-place Aston Martin made an unscheduled pit stop with a flat tire, moving us into second place.
But it wasn't over yet.
Our Corvette C6-R (No. 3, with me and Johnny O'Connell driving) began to experience a vibration from the rear of the car, forcing Johnny to slow our pace.
Fortunately, the No. 4 C6-R (with Oliver Gavin and Olivier Berreta driving) was right behind us and was able to move into second place, securing the Manufacturers Championship for Corvette. Oliver and Olivier went on to the win the Drivers Championship as well.
I will admit that both Johnny and I did not have our finest season together, in terms of win totals, with just the one victory at Road America.
However, we were generally faster this season than the previous two years, outqualifying our teammates at several races. The victories didn't come our way because of unlucky timing of pit stops and small mistakes.
For example, at the Houston race, we were leading by seven or eight seconds and were closing in on our final pit stop for tires and to hand over to Johnny for the run to the finish. The No. 4 Corvette pitted first, with our stop scheduled two laps later.
As No. 4 left the pits, a full-course caution was called, closing the pits until the pace car had the field gathered up.
When the pits reopened, we pitted and lost substantial track position to our teammates, making it nearly impossible to regain the lead.
We had a few races that were similar to Houston and a couple of races where we made small driving mistakes that also lost us valuable track position.
In the end, though, Corvette won all the honours in the GT-1 class, with our tire supplier, Michelin, getting the upper hand over the Pirelli-shod Aston Martins.
At this point in my career, I will admit to occasional self-doubt. But then there are race weekends like Mosport (other than our ridiculous penalty on Sunday), where we performed well in difficult rainy conditions on the Saturday in both the Corvette and Cadillac. It's a reminder why I really love to do this.
I believe Johnny and I can win another ALMS Drivers Championship. We had a new engineer working with us this year and it took a few races for us to get comfortable and confident. But both Johnny and I enjoyed the new challenge and feel like we have some momentum moving into next season.
We also have some unfinished business in the NASCAR community, getting that first, elusive victory on a road course in Nextel Cup, which is still high on my priority list. We need to find a team who can help us make that happen.
We did make significant progress in Nextel Cup, from an engineering standpoint, working with the Pratt & Miller group, which also handles the Corvette and Cadillac I race.
I am extremely proud of the work that has been done in the Sunoco Ron Fellows Karting Championship, presented by
Toronto Star
Wheels.
Following our fifth season, we have had several kart drivers move into car racing with exceptional results.
Robert Wickens and Daniel Morad competed in the Formula BMW Championship, along with Philip Major and Maxime Pelletier. In his second season, Robert won the Drivers Championship and Daniel finished fifth overall, winning the Rookie Championship.
Daniel also competed in the Bridgestone Racing Academy out at Mosport with our Sunoco Team Ultra 94 program, and won the Formula 2000 Championship.
James Hinchcliffe competed and won races in Formula Atlantic and performed extremely well in the A1GP Series as part of Team Canada.
Jamie Holtom won races in the Grand Am Cup Series, racing a Chevy Cobalt SS.
Marco Di Leo, our Team Ultra 94 champion from 2005, narrowly missed winning the Skip Barber National Championship, racing Formula 1600 cars.
Karting in Ontario has never been healthier, thanks to the efforts of our sponsors, track promoters, officials and the sanctioning body ASN Canada FIA, and, in particular, Paul and Chere Cooke.
Also, if you have been following the
Star Racer
program on the Discovery Channel, you will see several Sunoco karting series alumni vying for the opportunity to race a full season in the Formula Star Mazda Championship.
We will certainly have a busy off-season helping to organize the next phase of our racing development program.
And we also have our own racing future to get organized, as well as more shoulder surgery — yes, more shoulder surgery.
Unfortunately, my right shoulder has suffered some damage through wear and tear from the racing wars and will require arthroscopic repair.
I will have the same surgeon, Dr. Stephen Kollias in Indianapolis, do the work, since he repaired my left shoulder and it has performed perfectly since.
Once this shoulder is completed, it should really improve my golf game, if I had one.
<HR width="90%">
</HR>
wheels@thestar.ca
Additional articles by Ron Fellows
http://www.thestar.com/NASApp/cs/Co...le&cid=1165489689234&call_pageid=970599119419