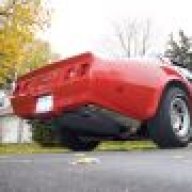 Joined

Sep 6, 2003
Messages

2,316
Location
Corvette

Red '82 Coupe,Sebring Silver '98 Coupe
Hi everybody! It's been years since I have been here, and I wanted to know if anybody else had the issue. I had my 98 C5 covered in the driveway last fall waiting for it's parking spot to free up for the Winter, and apparently some critter found an opportunity to get a nice place ready for the long sleep.
The air intake box under the windshield wiper motor assembly was full of seeds. leaves, and what looked like insulation mat. as well as under the valve covers covers. I removed the wiper assembly, and scrubbed out with detergent and water. All 3 rubber duckbill drains were removed and cleaned. The box itself is clean now, but there's still a strong smell whenever I wash the car and get the intake wet.
Is there any other place that needs to be cleaned out, or any stuff that can be sprayed to get rid of the odor? I really can't see where the air flows out of the box under the WW motor into the A/C system. What am I missing?