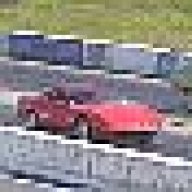 Joined

Apr 7, 2003
Messages

315
Location
Corvette

1996 LT4 Supercharged and 2002 Z06 656 whp
Last November I'd change the cam, springs, and did a home porting job to my Vette. My ET was before that swap 14.8 almost every time with street tires at 20psi, launching at idle (I did not have traction).
The local Racetrack is at 5200 ft altitude.
Last December 17th I went to test the new mods, and there it was; a Grand National with NOS, Slicks and some more mods. It was the fastest car that night... until my babe arrived!!!
We just did two runs and here are the numbers
the guy didn't want more)
1st run
Vette: Grand National:
T. Reacc. 0.517 0.568
T. 60ft 2.277 2.130
ET 13.653 14.080
2d run
Vette: Grand National:
T. Reacc. 0.653 0.502
T. 60ft 2.260 2.203
ET 13.718 14.184
Like before the cam swap the tires where at 20psi (street tires), I'd launched at 800 (my new idle speed). As you can see I went from 14.8s to 13.6s. The new cam is a 224°/230° with .486"/.503" (with my stock rockers)
Now the questions:
¿Do you think you can go down that much the ET with just the cam swap or my homemade porting and polishing helped a little bit?
¿What should be my ET with slicks and a 2000rpm launch?
¿What ET should I expect at sea level?
Here's the link to the video Vs the Grand National from a friend (right click, save as......)
http://www.camaro-transam.com/videos/redlt1vsgrandnational.mpg
here another video, same night Vs a Stang:
https://store.cybercable.net.mx/docs/vette02.mpg
That night my vette was the fastest car!!!