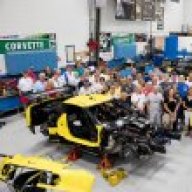 Joined

Aug 26, 2004
Messages

3,489
Location
Weekly Email Newsletter of the National Corvette Museum | Bowling Green, KY
​

​
This Week's Stories...
Corvette to Pace the Indy 500
Corvette Seminar Now Available on You Tube
Corvette Pace Car Banner Available
Long Beach Red Vette Winner Drawn
C4 Gathering Next Week
Calling All Corvette Racing Fans!
Corvette Store Featured Items
Upcoming NCM Events
May Calendar Wallpaper
​
Corvette to Pace the Indy 500
​
The Corvette Grand Sport is the official pace car for the 2017 Indianapolis 500 and will lead drivers to the green flag on May 28 for the 101st running of the legendary race. This marks the 14th time a Corvette has served as the official pace car, starting in 1978, and the 28th time a Chevrolet has led the field, dating back to 1948. No other vehicle has served as the pace car more than the Corvette.
​
​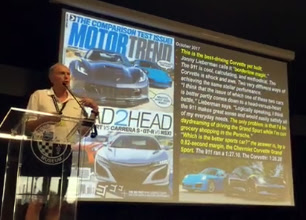 Corvette Seminar Now Available on You Tube
​
In their annual Corvette Walk Seminar at the Michelin NCM Bash, Tadge Juechter, Harlan Charles and Ryan Vaughan, reflect on last year's triumphs, deflect about future product, and give us the scoop on the great things happening for Corvette's 65th anniversary. This is always a fun, entertaining, and informative session with the people who are directly responsible for today's Corvette. You'll love the interaction with the crowd as they pole the audience for features they'd like to see in upcoming models.
​

​
Corvette Pace Car Banner Available
​
In 2007, Corvette paced the Indy 500. It was the ninth time the marque was given the honors. Clad in Atomic Orange paint, gold ribbon stripes, silver split-spoke aluminum wheels and a smattering of patriotic Indy 500 badges, the Kentucky produced car turned heads. Fans were given the opportunity to own one as 500 special ragtop replicas were offered.


Offered on our eBay is a banner featuring the Indy 500 Corvette Pace Car from 2007. The banner is 4' tall by 12' long.

​

​
​

Long Beach Red Vette Winner Drawn

​
Congrats to Frank Ducharme of Sebring, FL - winner of our 2017 Long Beach Red Corvette with ticket #438!


Your next chance to win a Corvette is Thursday, May 25, 2017 when we raffle off a 2017 Blade Silver Stingray Corvette Coupe! Tickets are $100 and the raffle is limited to 1,500 tickets. As of Thursday, May 11 we've sold 334 tickets.
​

​
C4 Gathering Next Week
​
If you are a fan of the fourth generation Corvette, you are not going to want to miss the C4 Gathering next week. May 18-20 is packed with seminars, roads tours and activities focused on this popular era of Corvette. New for NCM event activities are karting enduro races! Advanced online registration is closed, but on-site registration will be available.
​

​
Calling All Corvette Racing Fans!
​
If you're a fan of Corvette Racing we have several events coming up that you will not want to miss!


Le Mans Viewing Party
On June 17-18, 2017 the world's greatest car manufacturers will battle at the 24 Hours of Le Mans. We are planning to show the race on our 28-foot giant screen in the Chevrolet Theater, with live timing and scoring, refreshments during the entire 24 hours, private Skypes from the Corvette Racing team and door prizes.


Space will be very limited – pre-registration early is of the essence! Pre-registration closes 12pm on JUNE 12th. NO REFUNDS WILL BE GIVEN AFTER THIS DATE. Registration for this event is $100 per person.
​
Corvette Racing Weekend
October 20-21, 2017 the NCM presents the First Annual Corvette Racing Weekend with Doug Fehan and Special Guest Tommy Milner.


The Corvette Racing Weekend kicks-off on Friday, October 20, 2017 at 6:30pm at the Antique Automobile Club of America Museum in Hershey, PA with a reception (cash bar) with Doug and Tommy. The duo will recap the 2017 24 Hours of Le Mans during a buffet dinner (cash bar) which will start at 7:15pm. The evening will close with an autograph session.



Saturday's Corvette Racing Day will begin at 9:00am and end at 2:00pm. The day will include:
- Seminars by Doug Fehan and Tommy Milner; Andy Pilgrim; Kai Spande; Corvette Racing Photographer Richard Prince; Michelin Tire Engineer Lee Willard; and Mobil 1.
- Display of the C5-R that Dale Earnhardt raced at the 2001 Rolex 24 Hour on display
- Auction of Corvette Racing memorabilia
- Event will end with an autograph session with Doug and Tommy


Cost is $65 for both days including a buffet dinner or $25 for Friday only.
​

​
​
Corvette Store Featured Items
​
​

​
Upcoming Museum Events
C4 Gathering | May 18-20, 2017
Museum in Motion 24 Hours of Le Mans (France) | June 10-21, 2017 **REGISTRATION CLOSED**
NCM Le Mans Viewing Party | June 17-18, 2017
Museum in Motion Northwest Passage (Oregon / Washington) | July 26-30, 2017
Museum in Motion California Dreamin' | August 18-23, 2017
Museum in Motion 'Diamond in the Rough' (Roanoke, WV) | August 27-29, 2017
23rd Anniversary Celebration | August 31 - September 2, 2017
Museum in Motion National Parks Tour (Arizona / Utah) | September 17-23, 2017
Museum in Motion: Kentucky 1-Lap Tours | October, 2017
Vets 'n Vettes presented by Mobil 1 | November 2-4, 2017