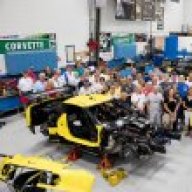 Joined

Aug 26, 2004
Messages

3,489
Location
Weekly Email Newsletter of the National Corvette Museum | Bowling Green, KY
​

​
This Week's Stories...
Club Parking Lot Banners Now Available
High Speed Fun for All Ages!
Manta Ray Memorabilia
Win a Long Beach Red Vette
Watch the Indy 500
Memorial Day Brick Sale
Corvette Store Featured Items
Upcoming NCM Events
May Calendar Wallpaper
​
NCM Quick Links
Corvette Store
Become a Member
NCM Insurance
Build Sheets
Corvette Raffle
Give Now
Museum Homepage
Club Parking Lot Banners Now Available
​
Promote your Corvette club to the thousands of visitors that travel to the National Corvette Museum! Each year we replace the banners on display in our parking lot and those sponsoring the banners get to keep them once they come down.


The 2017-2018 banners will on display for 10 months beginning in August and can be sponsored for a $425 donation. Space is limited! We'll reserve your space with payment and completion of our online reservation form.
​

​

​
High Speed Fun for All Ages
​
Excitement is building just up the street at the NCM Motorsports Park as our go karts have FINALLY arrived! We'll spend the next week or so testing the new track, making some adjustments to the configuration, implementing additional safety features, getting our timing system installed, staff trained and we'll be ready to open!


We'd like to thank the following for sponsoring our karts: All Hit WUHU 107 FM, The Beaver 96.7, Campbell Chevrolet, Cheetah Clean, Grand Sport Registry, Pepsi and Showtime Motorsports.


We have 14 karts left for sponsorship. Sponsorships are $1,000 for one year, or $2,500 for three years and includes one kart with four decals advertising your business, and 10% off one karting party per year. To secure your spot call Taylor at 270-777-4554.

​

​
Manta Ray Memorabilia
​
The National Corvette Museum opened with much fanfare in 1994. On display were the best of the best, unique and rare Corvettes.


General Motors Design Chief Bill Mitchell initiated a restyled version of the earlier Mako Shark, primarily from the cockpit rearward, and the Manta Ray was born. At the time of the concept car's development, the shark-inspired 1968 Corvettes were hitting the showroom floors, and Mitchell decided some changes needed to be done.



Up for auction is the informational board that was with the 1969 Manta Ray Concept Car when it was on display at the Museum for the Grand Opening.The sign is professionally printed on plastic and was designed and created by Exhibit Works. It is royal blue with a red bar, white text and checker board ghosted pattern. Many celebrities were on hand for the opening of the Museum, including the first Corvette Chief Engineer, Zora Arkus-Duntov. The sign is 25" tall by 15" wide.
​
​

​
​
Win a Long Beach Red Vette
​
Your next chance to win a Corvette is Thursday, May 11, 2017 when we raffle off a 2017 Long Beach Red Corvette Convertible! Tickets are $150 and the raffle is limited to 1,000 tickets.
​

​
Watch the Indy 500
​
Thanks to a generous donation from a Lifetime Museum Member, we have two tickets to the 101st running of the Indy 500 up for auction! The race is May 28, 2017 and the tickets are for the Northeast Vista Turn, Section 6, Row N, Seats 1 and 2.


Auction ends Monday, May 8. The proceeds support the Museum, a 501(c)(3) nonprofit foundation.
​

​
Memorial Day Brick Sale
​
This month we are offering a $25 discount on our outdoor Walk of Fame bricks when they have "In Memory" engraved on them. The small standard bricks are 4" x 8" and regular pricing is $100 for NCM Members $125 for Non-Member.


To take advantage of the discount use promo code MEMORIAL17, and your brick must have "In Memory" as part of the engraving. This offer is good for the month of May.
​

​
Corvette Store Featured Items
​
​
C7 Corvette Emblem UA Performance Graphic Polo

$59.00

​
​
C7 Corvette Under Armour Sideline Cap

$39.00

​
​
Free Shipping Special
Spend $50 or more, get free Economy UPS SurePost® Shipping
Ends Sunday, May 7, 2017!Some exclusions apply. Contiguous U.S. only. Minimum free shipping total of $50 is applied after discounts.​
​

​

Upcoming Museum Events
Museum in Motion: NASCAR in the South (Charlotte, NC) | May 8-13, 2017 **SOLD OUT**
C4 Gathering | May 18-20, 2017
Museum in Motion 24 Hours of Le Mans (France) | June 10-21, 2017 **REGISTRATION CLOSED**
NCM Le Mans Viewing Party | June 17-18, 2017
Museum in Motion Northwest Passage (Oregon / Washington) | July 26-30, 2017
Museum in Motion California Dreamin' | August 18-23, 2017
Museum in Motion 'Diamond in the Rough' (Roanoke, WV) | August 27-29, 2017
23rd Anniversary Celebration | August 31 - September 2, 2017
Museum in Motion National Parks Tour (Arizona / Utah) | September 17-23, 2017
Museum in Motion: Kentucky 1-Lap Tours | October, 2017
Vets 'n Vettes presented by Mobil 1 | November 2-4, 2017
National Corvette Caravan | August 28-31, 2019