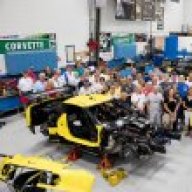 Joined

Aug 26, 2004
Messages

3,489
Location
Weekly Email Newsletter of the National Corvette Museum | Bowling Green, KY
​

​
This Week's Stories...
NCM Kartplex Opening
Travel with the Museum - Limited Spaces Left
Bid on a Piece of Museum Memorabilia
Blade Silver Corvette Winner Drawn
Shop for Dad and Make Us Smile
Your Name in the Museum
Corvette Store Featured Items
Last Chance for Discounted Memorial Bricks
Upcoming NCM Events
Vettes in Perfection Cruise Ins
​
NCM Kartplex Opening
​
The highly anticipated NCM Kartplex will OFFICIALLY open next Wednesday, May 31! Arrive and drive for a fun racing session against your friends on the new karting track!

Price: $20 per person for a 8-minute session. *Minimum height 50″

Hours of Operation:
Monday-Thursday: 12:00pm – 7:00pm
Friday-Sunday: 10:00am – 7:00pm
*Hours are subject to change due to inclement weather. Please check our calendar for availability before visiting.

Interested in a private party? Check out details here.

​

​
Travel with the Museum: Limited Space Left!
​
Each year the NCM hits the road near and far to take enthusiasts on adventures. This year we have a number of great trips planned, many with a few spots still available.


July 26-30, 2017
Northwest Passage
(22 spots left) Coastal region of Seattle, Washington, Tacoma, Mount Rainier and more.


August 18-23, 2017
California Dreamin'
(15 spots left) Start at Kingman, AZ and travel portions of Route 66 to Long Beach, CA with a visit to L.A.


August 27-29, 2017
Diamond in the Rough
(9 spots left) Travel to Roanoke, WV for some R&R.


September 24-30, 2017
National Parks Tour
(Second Tour added! 23 spots left) Travel the Grand Canyon's South Rim, Zion National Park, Bryce Canyon, Arches National Park, Glen Canyon Dam, Monument Valley and Canyonlands National Park.

​

​
Bid on a Piece of Museum Memorabilia
​
The National Corvette Museum, a 501(c)(3) nonprofit foundation, holds a series of raffles as fundraisers for the Museum. In 2009 as part of the Museum expansion, a special area was created to display cars being raffled off. Behind the cars was promotional artwork, showcasing many of the raffle cars and winners. The original artwork is 9' tall and 12' wide and comes in three pieces. It is a very thick vinyl material with gloss finish. In 2016 the artwork was removed. You can be the owner of this original artwork. Artwork comes with a notarized certificate of authenticity. Proceeds benefit the Museum.
​
http://portal.criticalimpact.com/go...d34bb3c2933b/286222985b47debf3947229f28c3afba





​
2017 Blade Silver Corvette Coupe Winner Drawn
​
Congrats to Wayne Oplinger of Shavertown, PA - winner of our 2017 Blade Silver Stingray with ticket #915. We sold all 1,500 tickets.


Your next chance to win a Corvette is Thursday, June 8, 2017 at 2pm CT when we raffle off a 2017 Arctic White Corvette Z06 Coupe! This Corvette is VIN 00001 and features the 3LZ Premium Equipment Package, competition sport seats, Carbon Flash Badge Package, Brembo Carbon-Ceramic Brakes and much more. Tickets are $250 and the raffle is limited to 1,000 tickets.
​

​
Shop for Dad and Make Us Smile!
​
Did you know that when you shop on Amazon, the Museum can benefit? Simply shop at smile.amazon.com for all the same great merchandise Amazon carries and select the National Corvette Museum as your nonprofit of choice. Amazon will make a donation to the Museum when you shop!

​

​
Your Name in the Museum
​
Have your name, business, or club engraved on a signature plate and attached as a permanent fixture incorporated into the Flint brick wall of the St. Louis Corvette Assembly Plant display of the Museum. Each brick space is recognized with a certificate for a donation. This is a great gift idea for any occasion, and is tax deductible! $250
​

​

Corvette Store Featured Items
​
​
​
​

​
Last Chance for Discount Memorial Bricks
​
This month we are offering a $25 discount on our outdoor Walk of Fame bricks when they have "In Memory" engraved on them. The small standard bricks are 4" x 8" and regular pricing is $100 for NCM Members $125 for Non-Member.


To take advantage of the discount use promo code MEMORIAL17, and your brick must have "In Memory" as part of the engraving. This offer is good for the month of May.
​