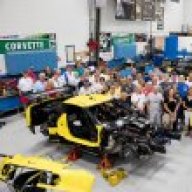 Joined

Aug 26, 2004
Messages

3,489
Location
[h=1][/h]
[h=1][/h][h=1]


Road & Track's Performance Car of the Year[/h]
Don't get too excited just yet. Spoiler alert! Our favorite marque was not the top pick this year. But - what you can get excited about is that the car testing was done at the NCM Motorsports Park - meaning there are a lot of cool photos taken at our place, and our name is now in front of all of Road & Track readers. So... check out the article online here to read their opinions on the nine candidates and see the beautiful photography.

​

[h=1]Military Appreciation Month[/h] <article> </article>
November is Military Appreciation Month at the National Corvette Museum and we're offing complimentary admission for anyone who has served in the American armed forces plus their immediate accompanying family members. Simply present proof of service at our admissions counter with our sincere thanks! The promotion runs through November 30.

​

[h=1]2017 Black Stingray Winner Drawn![/h]
Congrats to Deakin Donley of Santa Rita, Guam (Armed Forces Pacific), winner of our 2017 Black Stingray Corvette Raffle with ticket #957! We sold all 1,000 available tickets.

Your next chance to win a Corvette is Thursday, November 17 at 2pm CT when we raffle a 2017 Arctic White Corvette Z06 Coupe! Tickets are $300 and the raffle is limited to 1,000 tickets.

You can check out our other upcoming raffles online at www.corvettemuseum.org/raffle or call 800-538-3883 during normal business hours

​

[h=1]Intern for a Day[/h] <article> </article>
After visiting the Corvette Museum, five-year-old Dax of Tennessee became so interested in sinkholes that he wanted to come back - only this time to serve as a tour guide intern for our sinkhole exhibit! We enjoyed hosting him and his family... and I'm sure our visitors loved hearing all the sinkhole facts he had to share! Check out the video here.

​

[h=1]It's Not Too Late To Get Free Shipping[/h] <article> </article>

Free Shipping Special
Spend $75 or more, get free UPS Ground Shipping. Ends November 27, 2016!


Some exclusions apply, contiguous U.S. only. Minimum free shipping total of $75 is applied after discounts and does not include shipping costs.

2017 Art of the Corvette Wall Calendar
$17.95
​
<tbody> </tbody>
[h=1]When Your Corvettes Are Like Family[/h]
For Ed and Geri Goldman, through the years they've had a lot of children… and by children we are referring to their Corvettes. Because when you love Corvettes as much as they do, it does seem like your cars are part of your family (and there's a reason we call Corvette Boulevard our 'nursery').
​
On Thursday, October 27, 2016 – the Goldman's picked up their 21[SUP]st [/SUP]R8C Delivery Corvette – the most deliveries by a couple to date.

Check out their story on our blog here. If you're in the market to purchase a new Corvette, red carpet treatment through the Museum Delivery Program is the way to go. If you are purchasing a new Corvette off the dealership floor, you can still participate in a similar program called the NCM Experience. Learn about these and many other personalized programs online here.
​
[h=1]Shop on Amazon - Benefit the Museum[/h]
Did you know that when you shop on Amazon a percentage of your purchase can benefit the National Corvette Museum, at no additional cost to you? The program is called Amazon Smile - and it offers all the same products as Amazon. To get started sharing the love with the National Corvette Museum click here.

Upcoming Museum Events

Vets 'n Vettes presented by Mobil 1
November 3-5, 2016
Museum in Motion: Daytona Rolex 24 presented by Michelin
January 25-30, 2017
​
Museum in Motion: NASCAR in the South
(Charlotte, NC)
May, 2017​
Museum in Motion Northwest Passage
(Oregon / Washington)
end of July / early August 2017​
Museum in Motion California Dreamin'
August, 2017​
23rd Anniversary Celebration
August 31 - September 2, 2017​
Museum in Motion Lone Star Corvette Club National Park Tour
(Arizona / Utah)
September, 2017​
Museum in Motion: Kentucky 1-Lap Tours
October, 2017​
Vets 'n Vettes presented by Mobil 1
November 9-11, 2017​
View a complete list of events with more information and links to register on our
website here
.