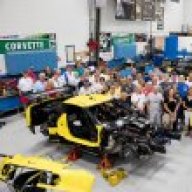 Joined

Aug 26, 2004
Messages

3,489
Location
.
Travel to France with NCM
Join us for our second adventure to France for the 24 Hours of LeMans race. Highlights of the tour June 10-21 include three days in Paris with a visit to the Louvre and Eiffel Tower, Versailles, a show at Moulin Rouge, cruise on the Seine, guided day-trip to Normandy and Omaha beaches as well as three days at Le Circuit de la Sarthe.

Hotels, ground transportation, tour tickets, all breakfasts, three dinners, Le Mans admission, grandstand race tickets, and Corral tickets are included. Tour fee is $5,250 per person double occupancy or $6,595 per person single occupancy.

View the complete details online here.

​

<tbody>

</tbody>

First Collector Edition Grand Sport Delivered

<article> </article>
At the 2016 Geneva auto show it was announced that Chevrolet would produce a Collector Edition Grand Sport as part of its 2017 model year line up, limited to only 1,000 models. On Friday, October 28 the Museum delivered their first 2017 Collector Edition Grand Sport Corvette to John Mullane of Edwardsville, IL.

John owns a 1996 Grand Sport, and 2010 Grand Sport... and after falling in love with the new Tension Blue color when he first saw it at the Michelin NCM Bash in April he knew he had to have one. He and wife Amy, Lifetime Members of the Museum, were joined by 15 members of his club, LookingGlass Corvette Club of Illinois, to pickup the car.

Check out the full story on our blog here. And if you keep an eye on our Delivery web cams you might catch a glimpse of other Collector Editions!
​
<tbody>
</tbody>
2017 Z06 Winner Drawn!
Congrats to Joseph Oliver of Onawa, IA - winner of today's raffle drawing for a 2017 Arctic White Z06 Corvette with ticket number 524. We sold 953 of the 1,000 available tickets. Joseph has never owned a Corvette, and never been to the Museum. In fact, he was driving a tractor in traffic when we called to give him the good news! Welcome to the Corvette family, Joseph!

Your next chance to win a Corvette is Thursday, December 1

​

when we raffle off a 2017 Long Beach Red Corvette Stingray Convertible! Tickets are $100 and the raffle is limited to 1,500 tickets.

Compressing Corvette Fun

<article> </article>
For those who live more than a days drive from Bowling Green, it can be tough to plan a visit on a regular basis. That's why GM has worked hard to offer the opportunity to "compress" the Engine Build Experience and Buyer's Tour so that both programs can be completed in one visit.

The new program is called option PD5, and it was perfect for Dick and Linda Bottis of Fountain Valley, CA. The couple not only participated in the PD5 option, building the Z06 engine on a Tuesday and starting it up on the line Wednesday, but they also picked up their Corvette through the R8C Delivery program. Even better, they were able to time the delivery so that they could attend the Vets 'n Vettes event!

​

The icing on the cake was that Linda and Dick celebrated their 42nd wedding anniversary on November 3.

​

"We had a great time and met new friends at the Vets 'n Vettes show," said Dick. "As for our anniversary… every anniversary is nice when you spend it with your best friend. Linda and I were both very impressed with how the community of Bowling Green honors Veterans."

​

It's Not Too Late To Get Free Shipping

<article> </article>

Free Shipping Special
Spend $75 or more, get free UPS Ground Shipping. Ends November 27, 2016!


Some exclusions apply, contiguous U.S. only. Minimum free shipping total of $75 is applied after discounts and does not include shipping costs.

C6 Corvette Emblem Cedar Park Vest
$78.00
​
<tbody>
</tbody>
<tbody>
</tbody>
ICYMI: Cool Corvette Videos You're Sure To Love
We periodically run across some fun Corvette videos on the internet that we share on social media. In case you've missed them, below are links so you can enjoy the clips as well!
​
<tbody>
</tbody>
<tbody>
</tbody>

Vets 'n Vettes presented by Mobil 1
At the National Corvette Museum we honor the men, women and families of those who serve in our military. For three days each year, in an event presented by Mobil 1 that culminates in the Veterans Day Parade, we pull out the stops to show them how much we appreciate their sacrifice and service.
Here is a highlight reel
meant to be a souvenir to those who made it, and an inspiration for everyone else to join the celebration in 2017!
The Grand Tour Grand Racing Quiz
The Late Late Show host James Corden takes 'The Grand Tour' hosts Jeremy Clarkson, Richard Hammond and James May to a test track for a time trial that has a quiz element (in a Corvette!).
Joe Biden And Jay Take A Ride Around A Beltway
(Sneak Peak) | Jay Leno's Garage
Joe Biden and Jay Leno take a spin in Joe's Corvette.
Season Premiere: VP Joe Biden And His Corvette
Jay Leno's Garage
On the season premiere, Jay meets one of Joe Biden's greatest loves: a 1967 Corvette.
German Vlogger Jan Gleitsmann's USA Roadtrip Coast to Coast
Jan takes a quick tour through the Museum, highlighting a few cars and exhibits for his popular You Tube channel.
Upcoming Museum Events
Museum in Motion: NASCAR in the South
(Charlotte, NC)
May, 2017​
Museum in Motion Northwest Passage
(Oregon / Washington)
end of July / early August 2017​
Museum in Motion California Dreamin'
August, 2017​
23rd Anniversary Celebration
August 31 - September 2, 2017​
Museum in Motion Lone Star Corvette Club National Park Tour
(Arizona / Utah)
September, 2017​
Museum in Motion: Kentucky 1-Lap Tours
October, 2017​
Vets 'n Vettes presented by Mobil 1
November 9-11, 2017​
View a complete list of events with more information and links to register on our
website here
.