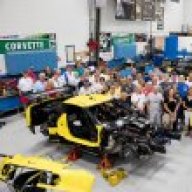 Joined

Aug 26, 2004
Messages

3,490
Location
Corvette

Night Race blue C7
Weekly Email Newsletter of the National Corvette Museum | Bowling Green, KY
​

​
This Week's Stories...
2018 Corvette Seminar Highlights
To Protect and Serve
Mako Shark II Memorabilia
Two Corvette Winners Drawn
Commemorative Edition Corvette Joins Collection
GM Corvette Plant News
Corvette Store Featured Items
Upcoming Club Events and NCM Events
May Calendar Wallpaper
​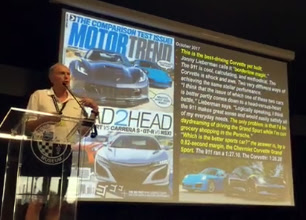 2018 Corvette Seminar Highlights
​
One of the primary highlights for the annual Michelin NCM Bash is a presentation by Corvette Engineers and Designers on the latest model year Corvette. This is typically the first time customers can see the next model year car, including new colors, options and features. If you're on Facebook, we conducted a live video of the seminar that you can still catch. We'll also have it posted on our You Tube soon. Specs for the car are available on our website.

​

​
To Protect and Serve
​
Symbols of appreciation come in many forms, and on Saturday, April 29 as part of the Michelin Bash the National Corvette Museum displayed its appreciation for law enforcement everywhere by revealing a 1984 Corvette that had been repainted and repaired for the family of a Nicholasville, Kentucky police officer. Officer Burke Rhoads, a Corvette owner and enthusiast, had been working to restore his car with the promise of letting his daughter Jacquelyn drive it to prom in a few years. Sadly, he was killed in a car accident while on duty. A chance phone call from his widow Melissa to the Museum, simply seeking a paint shop recommendation, set in motion a project from the heart, involving many individuals and businesses donating their time, talents and funds.
​

​
​
Mako Shark II Memorabilia
​
The National Corvette Museum opened with much fanfare in 1994. On display were the best of the best, unique and rare Corvettes.


Over Corvette's history, many concept cars were shark inspired. Once such car was the blue over silver Mako Shark II. Just as the Sting Ray racer served as inspiration for the 1963 Corvette Sting Ray, the Mako Shark II directly influenced the styling of the 1968 production Corvette.


Up for auction is the informational board that was with the Mako Shark II when it was on display at the Museum for the Grand Opening.The sign is professionally printed on plastic and was designed and created by Exhibit Works. It is royal blue with a red bar, white text and checker board ghosted pattern. Many celebrities were on hand for the opening of the Museum, including the first Corvette Chief Engineer, Zora Arkus-Duntov. The sign is 25" tall by 15" wide.
​

​
​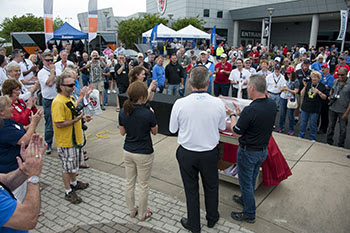 ​
TWO Corvette Winners Drawn
​


Congratulations to Duane Evans of Flower Mound, TX - winner of our 2017 Watkins Glen Gray Grand Sport Corvette Raffle on Friday, April 28 with ticket #390! We sold all 1,000 available tickets!


Also congratulations go out to Andy Wehnert of Fort Wayne, IN - winner of our 2017 Torch Red Corvette Convertible raffle with ticket #17504!


Your next chance to win a Corvette is Thursday, May 11, 2017 when we raffle off a 2017 Long Beach Red Corvette Convertible! Tickets are $150 and the raffle is limited to 1,000 tickets. So far we've sold less than 300 tickets!
​

​
Commemorative Edition Corvette Joins Collection
​
The Michelin NCM Bash was full of surprises, and one such surprise was revealed during the Winner's Circle donor recognition dinner. Bill and Kay Weber took the podium at the end of the ceremony to make a special announcement.


"For the past 14 years we've had the pleasure of driving [our 2004 LeMans Blue Commemorative Edition Corvette], and just about every time I stop we get a comment – 'what a beautiful car.' And so, after 14 years of us enjoying it, we decided to bring 'Baby Blue' back home to Bowling Green."


Stay tuned for the full story behind this awesome donations but meanwhile...
​

​
​
GM Corvette Plant News
​
At the Michelin NCM Bash, GM Corvette Plant Manager Kai Spande made the official announcement that public tours of the plant would not be available for approximately 18 months. The last day for public tours is currently Friday, June 16, 2017.


Corvette Chief Engineer Tadge Juechter further elaborated on the lack of availability, citing the time needed to tie the new paint shop into the assembly line, and eventually design a new tour route.


While Buyers' Tours and Engine Build options are not available for the 2018 model year Corvettes, R8C Museum Delivery is still available, sans the plant tour portion of the package which can be fulfilled once the tours reopen.



Kai and Tadge also announced that the plant will be shut down August-October. For those wanting 2018 Corvettes by the end of July the deadline to order is June 12. Corvettes ordered after that date will be built once the plant re-opens in November.
​

​
Corvette Store Featured Items
​
​
Corvette Ladies' Shoreline Half-Zip

$69.00

​
​
NCM Logo Travel Chair

$34.95

​
​

Upcoming Club Events & Car Shows
May 4-7, 2017: New England Corvette Caravan Meet and Greet Spring Kickoff, Saratoga Springs NY
May 6, 2017: National Afro American Corvette Club Annual Corvette Show, Houston TX
May 6, 2017: SuperVette Saturday, Acworth, GA (NCM Attending)
May 6, 2017: Vette Set Car Show, Redondo Beach, CA
May 6, 2017: Vettes for Vets at Indiana Veterans Home, West Lafayette, IN
May 6, 2017: All GM Beach Classic, Redondo Beach, CA
May 7, 2017: East Tennessee Corvette Club Annual Corvette Show, Reeder Chevrolet, Knoxville, TN
May 7, 2017: Kansas City Corvette Association Hendrick's Show, Merriam, KS
May 12 - 13, 2017: Capital City Corvette Classic, Missouri State Capital Grounds, Jefferson City, MO
May 13, 2017: Air Capital Corvette Club All Corvette Show, Wichita, KS
May 13, 2017: Corvettes for Vets, Forest City, NC (NCM Attending)
May 13, 2017: Vette Spectacular All Corvette Show, Irondale, AL
May 18-20, 2017: