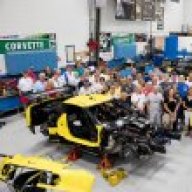 Joined

Aug 26, 2004
Messages

3,490
Location
Corvette

Night Race blue C7

​
This Week's Stories...
Black Rose to be Phased Out
Kentucky: 225 Years on the Move Exhibit Announced
Win an Arctic White Z06 Corvette!
Watch LeMans VIP Style
June Calendar Wallpaper
Corvette Store Featured Items
June Car Shows and Events
Upcoming NCM Events
​
NCM Quick Links
Corvette Store
Become a Member
NCM Insurance
Build Sheets
Corvette Raffle
Give Now
Museum Homepage
Black Rose to be Phased Out
​
The rumors you have heard are true, Black Rose will be phased out. The color was announced in 2016 at the Michelin NCM Bash as a new color for the 2017 model year and attendees had the opportunity to see the color up close for themselves.


"Basically we are painting Black Rose until the plant shut down happens in August and it won't be brought back when we start back in November," said Harlan Charles, Product Marketing Manager for Chevrolet Corvette and Camaro. "We will replace it with a new color TBA, but [that] may not be right away."


How many Corvettes were made in that shade? Read more on our website to find out!
​

​
Kentucky: 225 Years on the Move Exhibit Announced
​
This year Kentucky celebrates a milestone anniversary – it has been 225 years since its admittance as a state into the Union. Originally a part of Virginia, "the Kentucky County" became the 15th state on June 1, 1792. To celebrate, the National Corvette Museum is hosting a special exhibit, 'Kentucky: 225 Years on the Move' opening August 28, 2017 and running through Spring, 2018.
The exhibit will trace the history of transportation in Kentucky, featuring artifacts like the Mammoth Cave stagecoach, numerous bicycles from the Kentucky Wheelmen, and L&N Railroad archive items.


The Museum is continuing to solicit artifacts for display as part of the exhibit. Those who are interested in being a part of the 'Kentucky: 225 Years on the Move' exhibit are encouraged to reach out to Derek Moore at 270-777-4516 or via email at derek@corvettemuseum.org.


​
[SIZE=-1]

[SIZE=-1]

[SIZE=-1]





​









Win an Arctic White Z06 Corvette!
​
Your next chance to win a Corvette is Thursday, June 8, 2017 at 2pm CT when we raffle off a 2017 Arctic White Corvette Z06 Coupe! This Corvette is VIN 00001 and features the 3LZ Premium Equipment Package, competition sport seats, Carbon Flash Badge Package, Brembo Carbon-Ceramic Brakes and much more. Tickets are $250 and the raffle is limited to 1,000 tickets. Only 238 tickets LEFT as of Thursday, June 1.
​

​





Watch LeMans VIP Style
​




On June 17-18, 2017 the world's greatest car manufacturers will battle at the 24 Hours of Le Mans. Through special arrangement with the ACO, three locations outside of France will be given commercial free, direct feed of the race… Berlin, Tokyo and Bowling Green, Kentucky at the National Corvette Museum. Join us for a viewing of the race on our 28-foot giant screen in the Chevrolet Theater, complete with live timing and scoring, refreshments, meals, private Skypes with the team, door prizes and more!


Registration closes June 12.
​












​








[/SIZE]







​




June Calendar Wallpaper
​
The 2017 Chevrolet Corvette Grand Sport Indianapolis 500 Pace Car at Indianapolis Motor Speedway in Indianapolis, Indiana (driven by actor Jeffrey Dean Morgan). The Corvette Grand Sport paced the field at the start of the Verizon IndyCar Series Indianapolis 500 race on Sunday, May 28, 2017. (Photo by Chris Owens/IMS for Chevy Racing)
​

​
Corvette Store Featured Items
​
​
​
​



















June Car Shows and Events






View a complete list of events with more information and links to register on our website here.


​








[/SIZE]

​








[/SIZE]
Upcoming Museum Events
Museum in Motion 24 Hours of Le Mans (France) | June 10-21, 2017 **REGISTRATION CLOSED**
NCM Le Mans Viewing Party | June 17-18, 2017
Museum in Motion Northwest Passage (Washington) | July 26-30, 2017
Museum in Motion California Dreamin' | August 18-23, 2017
Museum in Motion 'Diamond in the Rough' (Roanoke, WV) | August 27-29, 2017
23rd Anniversary Celebration | August 31 - September 2, 2017
Museum in Motion National Parks Tour (Arizona / Utah) | September 17-23, 2017
Museum in Motion National Parks Tour II (Arizona / Utah) | September 24-30, 2017
Museum in Motion: Kentucky 1-Lap Tours | October, 2017
Vets 'n Vettes presented by Mobil 1 | November 2-4, 2017
National Corvette Caravan | August 28-31, 2019