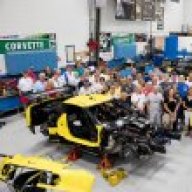 Joined

Aug 26, 2004
Messages

3,489
Location

​


This Week's Stories...
2002 Corvette Donated
First 2018 Corvette Delivered
Win a Watkins Glen Gray Stingray
Great Race Zips Through NCM MSP
Drive Your Corvette to Work Day
Corvette Store Featured Items
Upcoming Club and NCM Events
July Calendar Wallpaper
​
2002 Corvette Donated
​
On Tuesday, the Museum received a 2002 Light Pewter Coupe Corvette to add to the collection. The donor, who prefers to remain anonymous, had read about other car donations in America's Sports Car magazine (our magazine for members) and decided his Corvette would make a nice addition.


"I called Derek and it was very fortunate that the Museum needed a 2002. This is fantastic for preservation," the donor said.


The donor purchased the Corvette about a year ago in Michigan and with about 56,000 miles on it, the car is in excellent condition.
​
First 2018 Corvette Delivered
​
On Saturday, June 24th the Museum delivered our first 2018 R8C optioned Corvette through the NCM delivery program. The Blade Silver Stingray Coupe was picked up by Ian and Rebecca Sullivan of Fort Wayne, IN. Ian had previously owned a 1975 Stingray while serving in the Army but had to give the car up awhile back. For the past few years he'd been thinking about purchasing a new Stingray, and decided after graduating and getting a new job - it was time.
"I've always loved Corvettes and thought it would be a cool experience to pick it up at the Museum," Ian said. "I read about it on Corvette Forum, and everyone that had done a R8C loved it and said it was an unforgettable experience."
Welcome back to the Corvette family, Ian and Rebecca!
​
Win a Watkins Glen Gray Stingray
​
Your next chance to win a Corvette is Thursday, July 13 when we raffle off a 2017 Watkins Glen Gray Stingray Coupe! Tickets are $150 and the raffle is limited to 1,000 tickets. As of Thursday, June 29 we've sold 324 tickets.
​


​
​
Photo courtesy of Kenneth Gray​
​

Great Race Zips Through
NCM MSP

​
On Monday, locals and visitors to Bowling Green, KY got an extra special treat as the Great Race made a pit stop on their nine-day trek across the U.S. The Great Race is an antique, vintage, and collector car competitive controlled-speed endurance road rally on public highways. It is not a test of top speed. It is a test of a driver/navigator team's ability to follow precise course instructions and the car's (and team's) ability to endure on a cross-country trip. The course instructions require the competing teams to drive at or below the posted speed limits at all times.


Cars included everything from a 1916 Hudson to a 1953 Chevrolet Fire Truck with the "newest" model being a 1973 Jensen Interceptor. And yes, there were a few Corvettes!
​

​
Drive Your Corvette to Work Day
​
On June 30, 1953, the first Corvette came off the production line in Flint, MI. It was hand-assembled and featured a Polo White exterior and red interior. The car carried an initial price tag of $3,490 and could go from zero to 60 miles per hour in 11 or 12 seconds, then considered a fairly average speed.


In celebration of the birthday of Corvette, Friday, June 30 is deemed Drive Your Corvette to Work Day. This year will be the 17th year for the celebration, which is always on the Friday closest to June 30.


We are giving away a bag of the exclusive Corvette Coffee (only 300 bags were produced for the 24 Hours of LeMans). Be sure to follow our Facebook page and we will share how to enter Friday morning!

​

​
Corvette Store Featured Items
​
​
C1 Corvette Emblem Dangle Pandora-Style Charm
$
Upcoming Club Events and Car Shows


July 8: Rose City Corvettes Summer Cruise-In, Sandy, OR (NCM Attending)
July 8: Corvette Legends' Corvettes at the Summit, Canton Township, MI (NCM Attending)
July 8: Great Moncton Corvette Club Show and Shine, Centennial Park, Moncton, Canada
July 9: Club Corvette of Connecticut Annual Corvette Show, Moroso Performance Products, Guilford, CT (NCM Attending)
July 9: Shenango Valley Corvette Club Corvette & Classic Car Show, Greenwood Chevrolet, Hubbard, OH (NCM Attending)
July 12-15: Black Hills Corvette Classic, Beresford / Sioux Falls / Spearfish, SD (NCM Attending)
July 13-15: Arthritis Foundation Classic Auto Show and Cruise-In, Dublin Metro Center, Dublin, OH (NCM Attending)
July 15-16: Annual Corvettes of Buffalo Corvette Caravan, Cappellino Chevrolet, Boston, NY
July 15: Skyline Drive Corvette Club of Reading, PA Annual In-Vette-Tational Car Show, Oley Valley Fairgrounds, Oley, PA
July 15: Keeneland Concours D'Elegance, Keeneland Race Course, Lexington, KY
July 15: Mississippi Corvette Classic, Jackson Convention Complex, Jackson, MS (NCM Attending)
July 15: Southern Oregon Corvette Association 27th Annual Corvette Weekend, Grants Pass, OR (NCM Attending)
July 15-16: Corvette Invation, Austin, TX (NCM Attending)
July 16: Corvette and Friends Convention, Technik Museum Speyer, Speyer, Germany
July 21: Heroes Cruise presented by Don Franklin Chevrolet of Somerset, KY benefiting the NCM's Vets 'n Vettes luncheon (NCM Attending)
July 23: Adena Mansion and Garden Car Show, Chillicothe, OH
July 30: Corvettes Down Under Car Club Classic, Pelican Park Foreshore, Brisbane, Australia
July 30: Steel Town Corvette Club All Chevy Show, Colussy Chevrolet, Bridgeville, PA
July 30: VetteFest, Island Grove, Greeley, CO
July 30: Corvettes at Corsa, Berea, OH (NCM Attending)

Upcoming Museum Events
Museum in Motion Northwest Passage (Washington) | July 26-30, 2017
Museum in Motion California Dreamin' | August 18-23, 2017
Museum in Motion 'Diamond in the Rough' (Roanoke, WV) | August 27-29, 2017
23rd Anniversary Celebration | August 31 - September 2, 2017
Museum in Motion National Parks Tour (Arizona / Utah) | September 17-23, 2017
Corvette Racing Banquet at Embassy Suites by Hilton, Seaside CA | September 23
Museum in Motion National Parks Tour II (Arizona / Utah) | September 24-30, 2017
Museum in Motion: Kentucky 1-Lap Tours | October, 2017
Corvette Racing Weekend at AACA Museum | October 20-21
Vets 'n Vettes presented by Mobil 1 | November 2-4, 2017
National Corvette Caravan | August 28-31, 2019
Last edited: