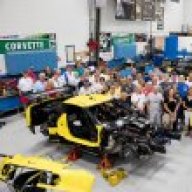 Joined

Aug 26, 2004
Messages

3,489
Location
2017 Corvettes Delivered and 2016 Numbers Released
It's like Christmas in July as General Motors has not only released the final counts for the 2016 model year Corvette, but also started delivering 2017 models (including the new Grand Sport) to dealerships and the Museum.

The Museum received our first shipment of seven Grand Sports on Tuesday - offering 360 possible color combinations to choose from. Four new exterior colors were debuted at the NCM/Michelin Bash in April - Admiral Blue, Black Rose, Sterling Blue and Watkins Glen Gray. They join the carry-over 2016 colors of Long Beach Red, Arctic White, Blade Silver, Black, Corvette Racing Yellow and Torch Red. The Heritage Package offers six colors for the hash-mark fender graphics (Hyper Green, Yellow, Volcano Orange, Torch Red, Gray and Carbon Flash Metallic), and five colors for the full-length stripes (Satin Black, Red, Gray, Blue and White).

Production for 2017 began on June 23 with approximately 48 units being completed prior to the plant's two-week summer shutdown. It is estimated that a total of about 2,000 Stingrays and Grand Sports have rolled off the line so far this model year. Read more about the new 2017s and check out some photos here.

Last Friday GM provided to us the final counts for the 2016 model year. According to Harlan Charles, Chevrolet Corvette Product Manager, 2016 Corvette production was the highest since 1984. A total of 40,689 Corvettes were produced (up 19% over 2015). The highest selling model was the Stingray Coupe and the most popular color was Arctic White. How did the the other stats line up? Check out our article here, and be sure to click and download the complete spreadsheet in the article.
​
<tbody>
</tbody>
<tbody>
</tbody>
Vets 'n Vettes presented by Mobil 1 Registration Open
<article> </article>
In 2008 we began a tradition of honoring our veterans with a new event, Vets 'n Vettes. The event now includes American Warrior Recognition, a way of providing our returning warriors with a special Corvette Experience. Thursday kicks off with Fort Campbell sending down members of their Warrior Transition Battalion to enjoy a day at the Corvette Museum, rides in participants' Corvettes at the NCM Motorsports Park as well as tours of the Museum and Plant, and a complimentary lunch presented by Don Franklin Chevrolet, Buick, GMC of Somerset, KY. With a Meet n' Greet, road tours, seminars and participation in the Bowling Green Veterans' Day Parade with lunch afterwards at the local VFW, the event offers veterans, servicemen and women and those who want to support them a comfortable place to meet and share stories and experiences.
​
General registration for Vets 'n Vettes is only $20. View the complete agenda and register online here.
​
Buy online at
www.corvettemuseum.org/raffle
or call
800-538-3883
during normal business hours.
Six Things Your're Missing in Bowling Green

<article> </article>

Southern Living has published an article highlighting six things you're missing in Bowling Green, Kentucky. Well, they actually list quite a few more things than six, but topping their list is the National Corvette Museum and NCM Motorsports Park. If you're thinking about planning a visit, they have lots of great ideas for you. Of course, you can also join us for one of three "One Lap of Kentucky" Museum in Motion tours this fall, too! Check out the article online here.

​
<tbody>
</tbody>
<tbody>
</tbody>
Corvette Store Featured Item

<article> </article>
C7 Corvette Stingray Streak T-Shirt
$16.95
​
<tbody>
</tbody>
<tbody>
</tbody>
Custom Corvette Ornaments Available
Made from tempered glass, approximately .1875″ thick, we now offer ornaments that use your favorite Corvette photo. Oval in shape, the ornaments are approximately 2-3/4" high by 3-1/2" wide. They look as good from behind on the reverse angle as they do straight on! $35 / $25 for members. Place your order online here.
​
<tbody>
</tbody>
<tbody>
</tbody>
Upcoming Club Car Shows
FEATURED EVENT
Corvettes at Carlisle - August 25-28 - Carlisle, PA
NCM's Corvette Store and NCM Insurance Attending

Aug. 6: Polk Street Cruise, Amarillo, TX
Aug. 6: 16th Annual Wood Hudson Cancer Research Charity Car / Truck Show, Newport, KY
Aug. 6: Annual Cruise-In at West Chevrolet, Alcoa, TN
Aug. 7: Corvettes by the Sea, North Kingstown, RI (NCM Attending)
Aug. 14: 33rd Annual All-Corvette Show, Heiser Chevrolet, West Allis, WI
Aug. 14: Chicagoland North Corvette Club Annual All Corvette Car Show, Bill Stasek Chevrolet, Wheeling, IL
Aug. 14: Vettes for Vets, Savage, MN (NCM Attending)
Aug. 20: Family Fun Day Car Show, Amarilo, TX
Aug. 21: Annual Corvettes of Buffalo Corvette Caravan, Cappellino Chevrolet, Boston, NY
Aug. 27: VetteStock, Alpharetta, GA (NCM Attending)
Aug. 28: Strut Your Stuff Corvette and Chevy Car Show, Martin Chevrolet, Crystal Lake, IL


​
Michelin TrackX
Saturday, August 6 / 8am-4pm

This activity takes place in an autocross-type environment, with coned gates, but on the racetrack! It will be an open event, with no class structure – just run what ya brung, high speed fun! Runs WILL BE timed. The event will be rescheduled if forecasted weather is threatening. We will watch the weather and do our best to make a weather call early.

$85 registration ($100 day of)
$25 for a co-driver
<tbody>
</tbody>
<tbody>
</tbody>
H
igh Performance Drivers Introduction
Saturday, August 13 / 8am-4pm
The High Performance Drivers Introduction is a "101" on track program introducing new drivers to the hobby of recreational performance driving. Here's what its about:
​
Introducing new drivers to the recreational performance driving.
Creating a lower cost, lower time commitment program to make it easier for drivers to give the sport a try.
Breaking down the barriers of entry to the sport by keeping groups small, concentrated, and social.
Creating more prepared drivers – demonstrating what to expect from a performance driving event, as well as demonstrating what is needed and expected from a driver and their vehicle.
Makes for a great car club or group activity!
$200 Registration
<tbody>
</tbody>
<tbody>
</tbody>
Copyright © 2016 National Corvette Museum, All rights reserved.
Members, website and on-site opt-ins.

Our mailing address is:
National Corvette Museum350 Corvette Drive
Bowling Green, KY 42101

<tbody>
</tbody>
<tbody>
</tbody>
<tbody>
</tbody>

| | | |
| --- | --- | --- |
| <center></center> | | |
<tbody>
</tbody>