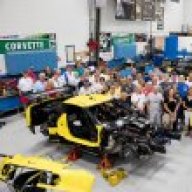 Joined

Aug 26, 2004
Messages

3,488
Location


Two Racers Join Museum Performance Area
With most of the cars on display at the Museum being on loan from private individuals, no two visits are the same. On your next visit to the Museum you might just catch a glimpse of two of our latest exhibit additions - a 1963 Grand Sport II Replica, and a 1969 Big Block. These two beauties were just put out on the floor, and if you are REALLY lucky you'll hear us crank one up. Wow! Until then, you can read the history on the cars and see a few video clips and pics online here.

​

Seeking Car Show Winners

<article> </article>

Has your Corvette earned a nod this year at a car show? If so, we are seeking photos to feature in our Enthusiast Area.

To submit, please send a horizontal photo of your Corvette (preferably with you and the award in the photo). Include the owner's name, name of the car show, and date of the show to katie@corvettemuseum.org. Deadline to submit is Monday, August 22.

​
<tbody>
</tbody>
Upcoming Chances to Win a Corvette
Congratulations to Glen Groeneweg of Lowell, MI - winner of our 2016 Long Beach Red Corvette Coupe Raffle with ticket #937. We sold all 1,000 available tickets.


Thursday, August 25 at 2pm
​

2016 Laguna Blue Corvette Coupe Raffle
Laguna Blue is a color not offered for 2017 so this will be your last chance to win one! The car also has the highly sought after Z51 Performance Package. Tickets are $200 and the raffle is limited to 1,000 tickets.
Only 380 have sold so far.
Friday, September 2 at 3pm
2017 Watkins Glen Gray Corvette Coupe Raffle
A new color for 2017 tickets are $100, limited to 1,500 tickets.
Saturday, September 3 at 3pm
2016 Black Corvette Convertible Raffle
Tickets for this sweet ride are only $10!
Buy online at
www.corvettemuseum.org/raffle
or call
800-538-3883
during normal business hours.
Danchuk Tri-Five Nationals

<article> </article>

Not only is Bowling Green, Kentucky Corvette City U.S.A. but this weekend we are also the home of the Danchuk Tri-Five Nationals, the world's largest gathering of 1955, '56 and '57 Chevrolets. More than 11,000 people attended last year's event celebrating the 60th anniversary of the 1955 Chevy and saw nearly 1,900 cars at Beech Bend Raceway. Event attendees can show their credentials to receive a special $3 off their Museum admission.

Can't make it this weekend? Mark your calendars because the event is at Beech Bend Raceway in Bowling Green each year through 2027. Learn more online here.

​
<tbody>
</tbody>
<tbody>
</tbody>
Back to School Shopping to Benefit NCM
Do you still have some back to school shopping left to do? Did you know that when you shop on Amazon a percentage of what you spend can be donated to the Museum at no additional cost to you? It's simple. Just visit smile.amazon.com for your shopping online and designate the National Corvette Museum as your charity!
​
Museum Featured on Tennessee Crossroads
If you are a fan of Horsepower TV and Powerblock TV you might recognize Joe Elmore, a former long-time host of the gearhead shows. What you might not know is that Joe also hosts Tennessee Crossroads, airing on Nashville Public Television. A few weeks ago Joe visited the National Corvette Museum and that episode will be airing tonite (Thursday, August 11) at 7pm CT and again on Sunday, August 14 at 10am. For those who do not get the show, they post past episodes online. You'll be able to find it here in the future
​
<tbody>
</tbody>
<tbody>
</tbody>
Copyright © 2016 National Corvette Museum, All rights reserved.
Members, website and on-site opt-ins.

Our mailing address is:
National Corvette Museum350 Corvette Drive
Bowling Green, KY 42101






<tbody>
</tbody>
<tbody>
</tbody>
<tbody>
</tbody>
| | | |
| --- | --- | --- |
| <center></center> | | |
<tbody>
</tbody>