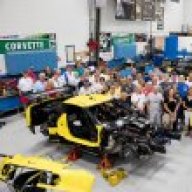 Joined

Aug 26, 2004
Messages

3,489
Location
[h=1][/h][h=1][/h]
[h=1]
1956 Corvette Donated[/h]
Last week the Museum welcomed a 1956 former drag racing Corvette to our collection. Donated by Terral and the late Swana Wittgow of Stanton, NE, the car's owner says he hopes it will be a way to carry on their name.
​
[h=1]"I always thought I would turn 65, retire, and become 16 years old again and get it out. But that didn't happen," shared Terral. Like most owners, he didn't want to try and sell it locally. "I couldn't bring myself to let some kid just destroy my childhood and college days' memories. So just by chance last fall I emailed the National Corvette Museum and they voiced interest in adding it to their collection. I just assumed you owned two or three of each year." The car is the first 1956 owned by the Museum.
"I was more than happy to donate it to the Museum because I didn't have to try to get it running again, or spend any time on it. I'm 73, so just a little too old to be crawling around pulling engines. I thought I'll just have a little bit of immortality and donate it to the Museum, and someone who knows us some day may go through and see that we donated it to the Museum. That means a lot more to me than money. My wife, Swana felt the same way. We're just average people. It's a way to keep your name going on."
Terral and Swana's donation now resides in the Museum's Maintenance and Preservation Department where Daniel Decker is working to get the car up and running again, and getting it cleaned and display ready on the inside and out. Once complete the car will rotate in and out of display within the Museum's Performance area.
You can read more about Terral's story and the
1956 here
. Thank you to Terral and Swana Wittgow for your generosity and efforts in preserving the history of America's Sports Car! If you have a Corvette that needs a loving new home please contact Connie Russell at
270-467-8815
.[/h][h=1]NCM Insurance Agency Expands[/h] <article> </article>
Thanks to collector car owners like you trusting your insurance needs to us, our NCM Insurance Agency has recently expanded to add two staff members to the team, and just opened a new office area in the public space of the Museum.

Check out photos of the new digs, and read about our new staffers, Insurance Agent Jeff Forsythe and Customer Service Rep Sharon Smith online here.
​
[h=1]Upcoming Chances to Win a Corvette[/h]
While our next raffle for a 2016 Long Beach Red Corvette is sold out, we do have three other chances to win a Corvette coming up!


Thursday, August 25 at 2pm
2016 Laguna Blue Corvette Coupe Raffle
Laguna Blue is a color not offered for 2017 so this will be your last chance to win one! The car also has the highly sought after Z51 Performance Package. Tickets are $200 and the raffle is limited to 1,000 tickets. Get yours before they are all gone!

Friday, September 2 at 3pm
2017 Watkins Glen Gray Corvette Coupe Raffle
A new color for 2017 tickets are $100, limited to 1,500 tickets.

Saturday, September 3 at 3pm
2016 Black Corvette Convertible Raffle
Tickets for this sweet ride are only $10!

Buy online at www.corvettemuseum.org/raffle or call 800-538-3883 during normal business hours.
​
[h=1][/h]
[h=1]Anniversary Celebration One Month Away[/h] <article> </article>
Rub elbows with the Corvette elite at this year's Anniversary event. We'll have our annual Corvette Hall of Fame induction banquet, with seminars during the event on each of our three honorees: Bob Bondurant, Ralph Kramer and the late Donna Mae Mims. Back by popular demand is our panel discussions with previous inductees. Plant Tour Manager Kai Spande will provide updates on Bowling Green Assembly while Corvette Product Manager Harlan Charles will present the 2017 Corvette. There are too many road tours and activities to list so check out the complete agenda online here.

Interested in volunteering at the event? We can always use help! From parking, to registration... Corvette Store and Corvette Cafe. Every little bit helps! To offer some helping hands please email this years' coordinator Joan Herzing at volunteeratncm@gmail.com. Thanks to all for all you do!
​
<tbody> </tbody>
[h=1]Corvette Store Featured Item[/h] <article> </article>
C7 Corvette Carbon Fiber Black Fluid Cap Covers Set
Give your 2014 or newer Corvette Stingray or Z06 engine bay a visual boost when you add the Corvette Flag Emblem Fluid Cap Cover Set. The chrome caps have brushed stainless steel accents and faux carbon fiber inlay which will not tarnish, fade or rust. The easy peel and stick installation takes just minutes. Comes with a Dry Sump Tank Cap Cover, Water Tank Cap Cover, Master Cylinder Cap Cover, Clutch Fluid Cap Cover (Standard Transmission), Actuator Cover and Windshield Wiper Fluid Tank Cap Cover.
$119.00 Automatic Transmissions (5-pc)
$142.00 Standard Transmissions (4-pc)
​
[h=1]August Calendar Wallpaper[/h]
In 1978, a special edition Chevrolet Corvette C3 pace car for Indy 500 helped commemorate Corvette 25th anniversary. Download your computer calendar wallpaper here.
​
<tbody>
</tbody>
<tbody>
</tbody>
[h=1]Get Red Carpet Treatment at the Corvette Plant and Museum[/h]
Planning a visit to the Home of Corvette? Let us roll out the red carpet for you with a V.I.P. Tour of the GM Corvette Assembly Plant and National Corvette Museum! V.I.P. tours last 3-5 hours and you will not be following any certain car during the tour of the plant. The V.I.P. Tour also includes a behind the scenes look at the Museum delivery and prep area where all of the delivery cars are detailed and inspected.

Cost of the tour is $200 for up to four people. Additional guests are $50 each and each group is limited to seven people. Read more online here.
​
<tbody>
</tbody>
<tbody>
</tbody>