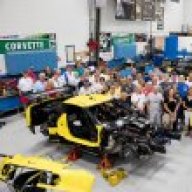 Joined

Aug 26, 2004
Messages

3,489
Location


Engine Build and Buyers Tour Combo Option Available
If you are thinking about participating in the Corvette Z06 Engine Build program and Buyers' Tour, the programs can now be a one-visit experience. "The benefit of the new Engine Build Experience is that your build will be compressed so that you can complete both programs during one visit to Bowling Green instead of having days or even weeks between the two," said Shane Webb, Delivery Department Manager at the National Corvette Museum.

The new experience and tour is available to anyone ordering a new Z06, regardless of trim level, and is an all-encompassing event over two or three consecutive days. The Engine Build Experience is the combination of two options for a total price tag of $7,500 (RPO PBC - $5,000 and RPO PD5 - $2,500) and includes the engine build, buyer's tour, a photo album of your Corvette's assembly and dinner with a senior manager from Bowling Green Assembly and a NCM representative. The option is available on sold orders only. Contact your favorite Chevrolet dealer to add this option on to your Corvette Z06 order.
​
<tbody>
</tbody>
<tbody>
</tbody>
Last Chance for Indycar Exhibit

<article> </article>
If you have not yet had the opportunity to visit and see our awesome Indycar exhibit presented by Intercity Lines, you have just TWO WEEKS left to check it out. Highlights of the exhibit include
​
1991 Michael Andretti Car, featuring an Ilmor Engine. Andretti took 2nd place in 1991 at the Indy and won the championship in this car.
MidContinent Security car, driven by Don Branson, Tony Bettenhousen and Parnelli Jones in 1959, 1960 and 1962.
Bowes Seal Fast Sponsored car, built by Quinn Epperly. Driven by AJ Foyt and Johnny Boyd in 1959, 1960 and 1962.
And many more! The Museum is open daily, 8am-5pm CT and is located at I-65, exit 28 in Bowling Green, KY. Start planning your visit here.
<tbody>
</tbody>
2017 Arctic White Convertible Raffle Winner Drawn
Congrats to Natalie Rohn of Terre Haute, IN - winner of our 2017 Arctic White Corvette Convertible raffle with ticket #593. We sold all 1,000 available tickets.

Your next chance to win a Corvette is Thursday, October 13 at 2pm CT when we raffle off a 2017 Torch Red Corvette Coupe. Tickets are $100 and the raffle is limited to 1,500 tickets.

You can check out our other upcoming raffles online at www.corvettemuseum.org/raffle or call 800-538-3883 during normal business hours.
​
When Corvette Racing is Your Passion
<article> </article>
​
Automotive racing comes in many forms - NASCAR, IndyCar... but for Rebecca McCarty of Theodore, AL it is the WeatherTech SportsCar Championship that gets her attention. Rebecca is a fan of Corvette Racing, having attended the races at Le Mans and Daytona.
​
Rebecca's enthusiasm for racing that drew her to support the NCM Motorsports Park by sponsoring an acre. "Corvette Racing is my passion, so I wanted to support Corvette Racing at the NCM Motorsports Park," Rebecca said.
​
Only five acres remain available for sponsorship through the Acre Program – a campaign that was created to help the National Corvette Museum, a 501 (c)(3) nonprofit foundation, purchase the acreage for the NCM Motorsports Park. Acres can be sponsored for a tax deductible contribution of $15,000.

Donors will be listed on a special, permanent engraved wall at the Park. The opportunity to participate ends December 31, 2016 and the wall will be erected in 2017. To inquire about an acre please contact Connie Russell at 270-467-8815 or email connie@corvettemuseum.org.
​
Corvette Store Featured Item
<article> </article>
C5 Corvette Emblem Mason Jacket
$86.00
​
Upcoming Club Events
October 1: Vettes in Perfection Fall Corvette Cruise-In, Broadalbin, NY

October 6-9: Eureka Springs Corvette Weekend, Eureka Springs, AR (NCM Attending)

October 9: Woodbridge Corvette Club Annual Corvette, Classic Car & Truck Show, Fords, NJ

October 13-15: Barrett Jackson, Las Vegas (NCM Attending)

October 14-15: Free State Corvette Club's Corvette Weekend, Ocean City, MD (NCM Attending)

October 14-16: Good Guys 5th Nostalgia Nationals, Beech Bend Raceway Park, Bowling Green

October 15: Greater New Orleans Corvette Club 25th Anniversary Extravetteganza, Slidell, LA (NCM Attending)

October 15: Queen City Corvette Club All-Chevy Charity Car Show and Bloomington Gold South, Charlotte, NC (NCM Attending)

October 21-22: Sulphur Springs Corvette Show, Sulphur Springs, TX (NCM Attending)

October 22, 2016: The Ultimate Corvette and Chevy Show, Plant City, FL (NCM Attending)

October 22: Corvette Racing Legends Day at the Simeon Museum, Philadelphia, PA (NCM Attending)

October 22: Bayou State Corvette Club, Scott, LA (NCM Attending)

October 23: American Legends, Lancaster, PA

October 29: Vettes by the Shore, Jacksonville Beach, FL (NCM Attending)

NCM Quick Links
Corvette Store
Become a Member
NCM Insurance
Build Sheets
Corvette Raffle
Give Now
Museum Homepage
​


Upcoming Museum Events
MiM 1-Lap of KY
October 11-15
;
October 18-22
and
October 25-29
, 2016
Vets 'n Vettes presented by Mobil 1
November 3-5, 2016
Museum in Motion: NASCAR in the South
(Charlotte, NC)
May, 2017​
Museum in Motion Northwest Passage
(Oregon / Washington)
end of July / early August 2017​
Museum in Motion California Dreamin'
August, 2017​
Museum in Motion 'Diamond in the Rough'
Roanoke, WV
August 27-29, 2017​
23rd Anniversary Celebration
August 31 - September 2, 2017​
Museum in Motion Lone Star Corvette Club National Park Tour
(Arizona / Utah)
September, 2017​
Museum in Motion: Kentucky 1-Lap Tours
October, 2017​
Vets 'n Vettes presented by Mobil 1
November 9-11, 2017​
View a complete list of events with more information and links to register on our
website here
.