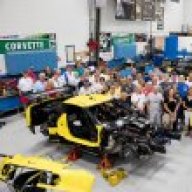 Joined

Aug 26, 2004
Messages

3,490
Location
Corvette

Night Race blue C7
Kentucky 1-Lap Registration Open
This fall is our 7th year for our annual Kentucky 1-Lap tour, an event in collaboration with the Kentucky State Police. The event raises money for both the Museum and Trooper Island, a KSP non-profit camp for underprivileged children.

This year's trip travels to the Lexington, Kentucky area visiting Kentucky Cooperage where they make bourbon barrels, Kentucky Speedway, General Butler State Park, Buffalo Trace Distillery, University of Kentucky's Rupp Arena, Kentucky Horse Park, Perryville Battlefield State Park, My Old Kentucky Dinner Train and The Great American Dollhouse.
​
NCM Members – Primary Registrant (driver and car) $1000 / alternate driver $500
NCM Non-Members – Primary Registrant (driver and car) $1040 / alternate driver $540
(includes 1 year discounted membership to NCM upon completion of tour)
​
<tbody>
</tbody>
<tbody>
</tbody>
High Performance Drivers Introduction Offered

<article> </article>
If you've always wanted to get out on the track but never been brave enough to take the first step, the NCM Motorsports Park has a new program just for you! High Performance Drivers' Introduction is a "101" on-track program introducing new drivers to the hobby of recreational performance driving.

Small class size at a lower cost and time commitment are the main elements of the program. Cost is only $200 and the first event is Saturday, August 13

​

. Read more online here.
<tbody>
</tbody>
<tbody>
</tbody>
Win a Shark Gray Vette
On July 28 we're raffling off a 2016 Shark Gray Z06. The Corvette features an 8-speed paddle-shift automatic transmission, 3LT preferred equipment package, dark gray leather interior, full painted carbon fiber and transparent roof package, carbon flash painted ground effects package and outside mirrors, carbon flash badge package and hood stinger stripe and more. Tickets are $300 and the raffle is limited to 1,000 tickets. As of Thursday, July 14 only 510 tickets have sold.

Buy online at www.corvettemuseum.org/raffle or call 800-538-3883 during normal business hours.
​
<tbody>
</tbody>
<tbody>
</tbody>
Holley Tower and Winding Road Race Shop Open
<article> </article>
On Wednesday the opening of the Holley Control Tower and Winding Road Racing Shop was celebrated with a ribbon cutting and facility tours. The Holley Control Tower features nearly 15,000 square feet with a variety of spaces including the Winding Road Race Shop, classrooms, meeting rooms, viewing deck and more.

Read more about the opening and facilities online

​
Corvette Store
Corvette Customized Baseball Jersey
$149.95

It's Christmas in July for NCM Members! Enjoy an additional discount on your purchase now through Sunday, July 17. Lifetime Members receive a 20% discount and Individual, Family and Senior Members receive a 15% discount. Discount applies to regular price merchandise only. Not valid on previous purchases. Build sheet, window sticker and brick orders excluded.
​
Blue Oyster Cult Frontman Burns for Corvette
Recently Eric Bloom, front man for the rock band Blue Oyster Cult stopped by just hours before a performance. Having sold 24 million albums, they continue to tour, thrilling audiences with songs like Burnin' for Your, Cities on Flame, Godzilla, and Don't Fear the Reaper.

"I've been a car guy since I was looking out of the window of my father's '56 Buick Roadmaster," Eric said. "So I couldn't resist coming here. I've passed by it many times, but this is the first chance I've had to stop in."

Eric's current favorite ride is his Cadillac XLR, which he has collector car insurance on through the NCM Insurance Agency.

​

<article> </article>

"I like it a lot. It is comfortable, beautiful and fast, with a lot of Corvette DNA in it. It was built here in Bowling Green at the Corvette Plant too. Still, looking at all of these Corvettes on display is making me think I should get one now."

Read more about Eric's visit here.

​
<tbody>
</tbody>
<tbody>
</tbody>
Sorensons Join One Acre Club
When you own a Z06, its only natural to want to take it to the track. So why not support what many consider to be the "home track" for Corvette? That's exactly what Carter and Becky Sorenson wanted to do.

​

<article> </article>

"We have visited the museum a few times, and we have had the opportunity to go to the track twice so far, once with our 2014 Stingray and once with our Z06," said Carter. This past March, the Sorensons toured the plant and observed their Z06 as it was being built at the General Motors Corvette Assembly Plant.

​

<article> </article>

"We will probably be doing quite a bit of track time with our Z06 at the Motorsports Park." The couple is planning on making a trip to Bowling Green at the end of July, and again in August to take their Z06 for a spin on the NCM track. "We consider it to be our home track, so we figured that sponsoring an acre was something that we should do."

Less than 10 acres remain and are available for a $15,000​
<tbody>
</tbody>
<tbody>
</tbody>