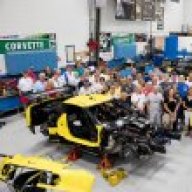 Joined

Aug 26, 2004
Messages

3,489
Location
<center>
Weekly Email Newsletter of the National Corvette Museum
<tbody>
</tbody>
<tbody>
</tbody>
2016 Corvette Hall of Fame Announced
The National Corvette Museum has announced the following inductees to be recognized as part of the 19th Annual Corvette Hall of Fame Ceremony in 2016: Bob Bondurant in the category of Racing; Ralph Kramer in the category of GM/Chevrolet; and Donna Mae Mims in the category of Enthusiast. These three individuals will be recognized with the highest honor bestowed by the Museum for their contributions to the past, present and future of Corvette.
​
Bob Bondurant helped to validate the Chevrolet Corvette as a world-class sports car during its early years, winning on racetracks in both the U.S. and abroad. In 1959 he won 18 of 20 SCCA-B production races and from 1960-63 he won 30 of the 32 races he entered. Today, Bondurant has graduated over 500,000 students ranging from celebrities, military officers, professional race drivers, teens and driving enthusiasts to be better, safer drivers at the Bob Bondurant School of High Performance Driving in Phoenix, AZ.
​
Ralph Kramer was one of the first Chevrolet executives to bolster GM support for the Corvette Museum in its founding years, helping establish connections, opening doors, and preserving history. Had it not been for him, the one-millionth Corvette likely would not be a museum display piece today. During his tenure in Chevrolet public relations from 1973-1995, he managed the brand's pace car and race engine presence at the Indianapolis Motor Speedway, later becoming the Speedway's public affairs director and director of the Hall of Fame Museum.
​
For Donna Mae Mims, a.k.a. "The Lady in Pink," it was love at first sight when it came to Corvette. After purchasing one brand new from Don Yenko Chevrolet, she soon joined the Yenko/Chevrolet race team that dominated A/Production and B/Production SCCA racing with Corvette. Mims served as Manager of Hi-Performance at Yenko Sports Cars, was a freelance writer for several car magazines, and inspired Adrienne Barbeau's character in the Cannonball Run movie. She was active in the Steel Cities SCCA Region, Corvette Club of Western Pennsylvania, Three Rivers Corvette Club (which she founded), Steeltown Corvette Club, and Tri-Rivers Car Club Council.
​
The induction ceremony and banquet will be Friday, September 2, 2016. Read more about each of our esteemed inductees online here.
​
---
<tbody>
</tbody>
<tbody>
</tbody>
GM Invests $44 Million in Bowling Green
General Motors said Wednesday it will invest $44 million in the Bowling Green Assembly plant to support increased capacity in its Performance Build Center, adding 36 new jobs. Construction and tool re-arrangement is planned to start in January 2016.
​
The expansion of the Performance Build Center is fueled by the success of the Corvette Z06, which currently accounts for nearly a third of all Corvettes produced at Bowling Green Assembly.
​
The Performance Build Center also offers a one-of-a-kind experience for customers, the Build Your Own Engine program. This program allows customers to assemble the 650-hp supercharged LT4 engine for their cars. The $5,000 option package includes a full day with a Performance Build Center engine assembly technician who instructs and oversees the build, a personalized engine plaque identifying the customer and professional photography.
​
Learn more about the Engine Build program, and other unique Corvette experiences available only through the National Corvette Museum, online here.
​
---
<tbody> </tbody>
<tbody>
</tbody>
Your Next Chance to Win a Corvette
While our last raffle for 2015 is sold out, we do have some other opportunities on our website that you can participate in!
​
January 14, 2016
2016 Shark Gray Stingray. Tickets $200, raffle limited to 1,000 tickets.​
January 28, 2016
2016 Blade Silver Stingray Corvette Convertible. Tickets $100, raffle limited to 1,500 tickets. ​
February 11, 2016
2016 Torch Red Stingray Corvette Coupe. Tickets only $10! ​
Don't wait until the last minute to get your ticket or we could be sold out!
​
---
<tbody> </tbody>
<tbody>
</tbody>
Museum Receives Grant for Teen Driving Program
The Museum has received a $1,500 grant from Enterprise Holdings Foundation, the philanthropic arm of the company that, through its regional subsidiaries, operates the Enterprise Rent-A-Car, National Car Rental and Alamo Rent A Car brands. The grant is earmarked for the NCM Drivers' Safety Academy Teen Driving program. The Museum offers many driving courses to teach safe driving to teens. Situational Driving is offered monthly, teaching hazards of the road, inclement weather, texting, impaired driving, and more. Street Survival is offered twice per year in which students drive their own cars with an instructor, and practice different situations at the NCM Motorsports Park.
​
The Museum and Enterprise Rent-A-Car partner on a convenient transportation option for new Corvette buyers picking up their Corvettes at the Museum. Those flying into Nashville, TN can take advantage of a one-way car rental through Enterprise, and leave their rental car at the Museum before driving their new Corvette home.
​
Learn more about the NCM Drivers' Safety Academy online here.
​
---
<tbody> </tbody>
<tbody>
</tbody>
Free Corvette Store Gift Card
For each $50 purchase you make from the Corvette Store, receive a FREE $10 Gift Card! This promotion ends December 13, 2015. Gift card not valid on previous
purchases. Redeemable on a future purchase only. The free gift card(s) will not be reflected on order confirmations but will automatically enclosed with order.

Featured Store Item
Stockman Vette Metal Sign
$24.00
​
Ordering Christmas Gifts? Here are the UPS shipping deadlines for delivery by Thursday, December 24, 2015:
- For UPS Ground Shipping: Monday, December 14
- For UPS 2nd Day Air Shipping: Tuesday, December 22
- For UPS Next Day Air Shipping: Wednesday, December 23​
Orders must be placed by 12:00 Noon Central Time. Only valid in the contiguous US. For in-stock items only.
​
<tbody>
</tbody>
<tbody>
</tbody>
---
New to the Floor
1954 Motorama Corvair Experimental Concept Car Replica
​
The 1954 Corvette Corvair concept was a two-door fastback, two-passenger coupe. When it debuted at the 1954 GM Motorama in New York City, it was a ruby red color, but was repainted a light sea foam green for the subsequent Los Angeles show. The Corvair used the Corvette's front end, though it sported ribbed air intakes on the hood that routed air to the interior and fender vents that allowed heat to escape the engine compartment. The Corvair had a wrap-around windshield and the roof was aircraft-inspired sweeping back into the chrome-trimmed license plate housing, which resembled a jet-fighter exhaust port.
​
This Corvair was built by Brett Henderson of Blue Flame Restoration with the help of the owner, Michael Terry. Every effort was taken to duplicate the legendary Motorama Corvair. All the body panels except the two front fenders were custom built, including all of the window glass. The car is on loan from Michael Terry of Greenwood IN and can be seen in the "Town Square" exhibit area of the Museum.
​
---
<tbody> </tbody>
<tbody>
</tbody>
<tbody>
</tbody>
<tbody>
</tbody>
Copyright © 2015 National Corvette Museum, All rights reserved.
<tbody>
</tbody>
<tbody>
</tbody>
<tbody>
</tbody>
<tbody>
</tbody>
</center>